This year we bid a sad, but fond farewell to songstress Whitney Houston. Her mega music hits will live on in our hearts, and MP3 players forever. But the soulful singer had a long list of achievements, including starring in and producing movies.
Sparkle, co-starring American Idol winner Jordin Sparks, is her swan song as an actress, singer, and executive producer. The film, a remake of a 1976 movie of the same name starring Irene Cara (Fame), was inspired by the Supremes, a soulful Motown singing group lead by Diana Ross. But it diverts quite a bit from the original film. In the updated version of "Sparkle," set in the late 60s, three sisters who are musically inclined find they have to sneak out of their over-protective mother's house in order to pursue their dream of being a singing trio.
300
true
thumbnails
under
200
true
true
800
none

Houston plays Emma, the overbearing, devoutly religious mother of three high-spirited daughters; Sister, who's sassy and rebellious (Carmen Ejogo); Dolores (Tika Sumpter), a smart and savvy aspiring doctor; and Sparkle (Jordin Sparks), the young and naive sister who writes music lyrics. Each of the girls are frustrated with their mother's restrictive rules, and lash out in their own way.
This film wasn't what I expected, it was much better – not only entertaining, but inspirational. I credit this to superb casting, chic costuming, and a rhythmical soundtrack. Unlike the original film set in Harlem, New York, this version is set in Detroit, Michigan. Motown serves as the backdrop to tell the story of the trials and tribulations of the girl group with dreams of fame and fortune.
The chemistry between Houston and her on screen daughters is on point. The actresses were able to bring to life a story that has been told many times in various forms. With all the fervor, tension, and melodrama one would expect between a dominating mother and her willful daughters. Houston is stellar as the stern no-nonsense family matriarch. One scene in particular between Emma and her daughter Sparkle, when she finally speaks up and defends herself to her mother. The supporting cast rounded out nicely with actor Derek Luke (Seeking A Friend For the End of the World) who is the group's manager and boyfriend to Sparkle; and comedian Mike Epps (Jumping the Broom), a well-known TV personality who becomes abusively involved with Sister.
Just as robust as the acting was the styling, which gave the film the look of a 60s glossy magazine chock full of shift dresses, pristine pearls, and perfectly coifed hair. I especially adored the look Sparks sported as Sparkle. But just as lovely as her look, was her voice. Her penchant for belting out high-pitch tunes was phenomenal. She quite possibly upstaged Houston's only solo in the film, "His Eye Is on the Sparrow." One thing for sure, after watching this film, I am pretty sure everyone's eyes will be on Jordin Sparks, because she truly did sparkle.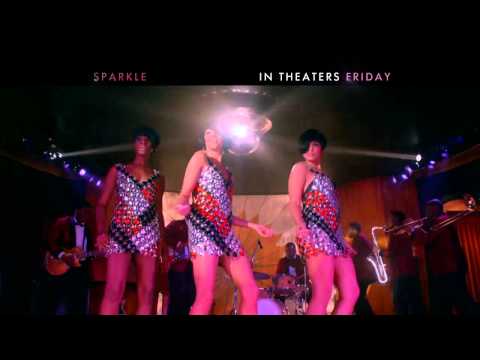 Chicly Yours,
The Chic Spy
(Images courtesy of Sony Pictures)