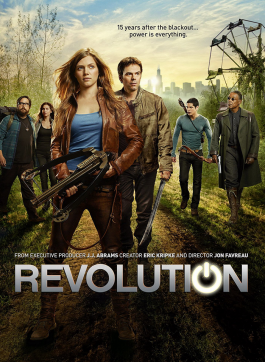 ANAHEIM — NBC's hit action-adventure sci-fi series, Revolution, has returned to finish off it's explosive first season. Whether you're loving the show for its addictive storyline or the characters' warrior style, you're going to really envy the fact that we got to sit and chat with the show's co-stars Zak Orth (Aaron) and Tim Guinee (Ben), as well as co-executive producer David Rambo during WonderCon 2013. We've got the scoop on what's to come before the season finale.
This is a show where once you think you know who the big bad is, it's somebody else. ~ David Rambo, Co-Executive Producer
The second half of the season seems to be on an accelerated path. Why is that?
David Rambo: It wasn't a conscious decision to suddenly pick things up, the story picked things up. Danny's death galvenized everyone of the heroes and when you're avenging someone's death, you don't sit around and take the time. You go after them.
Why kill off Danny (Graham Rogers)? Did you feel that Ben's death wasn't enough motivation for Charlie?
DR: We killed off a bunch of characters that we really took time to establish, starting with Maggie (Anna Lise Phillips) in the fourth episode. Consistently, we want to always underline that the world is not safe. You can die in this world by stepping on a nail; and on top of that, there are very violent forces in play. Another thing that Danny's death did for us, was it really let us take the character of Charlie (Tracy Spiridakos) from girl to woman. She's a woman warrior in the second half.
What is in store for Aaron this season?
Zak Orth: In the episodes that are coming up I got to do some stunts and I'm very happy about that.
Anything else you can tell us about?
ZO: We see my wife, and not in a flashback; we see her in real time. He just randomly, by chance, thinks that he sees her in the middle of the Plains Nation and finds her. They have this very awkward weird sort of reunion, which is then compounded by the fact that she is actually in some peril that she can't really tell him about.
In the midseason return we see Neville disown his son. What can we expect in the next few episodes?
DR: The Neville family is a huge part of the rest of the season. They're in for tremendous changes and this relationship between Neville and his son that we've been watching go from distrust … to trust; there's some more of that coming and they really need each other, in a kind of funny way. They're enemies a lot of the time, and sometimes they seem to not be. But they need each other.
If you had to identify the heart of "Revolution," which aspect of the show really define what it's all about?
DR: When you get to the heart of the show, it's not about power. It's about Family. Family is the theme and every time we talk about one of the big moves like Danny's death, or that capsule, or helicopters and machine guns – we talk about it in terms of family.
ZO: I think the heart of the show is action. It is swashbuckling, and it is things blowing up. It is scope and scale, and the idea of just letting it run free and loose and letting things build up … and become more and more unbelievable.
What can we expect to see as we heads towards season finale?
Tim Guinee: Eric Kripke seems very interested in providing mysteries and then solving them pretty quickly. So a lot of the mysteries that the audience knows about now, I would say are going to be solved in fairly short order. [Eric] is good with the cliff hangers.
DR: The season has an ending, which is like all good genre endings, it's also a beginning. This is a show where once you think you know who the big bad is, it's somebody else. So, that could happen at the end of the season, absolutely.
Don't miss all new episodes of Revolution, Monday nights on NBC.
Agent: Yael Tygiel
(Image courtesy of NBC)