On the twelth day of Christmas, my true love gave to me …
Twelve Mini Macaroons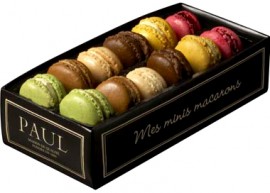 Paul Patisserie mini macaroons, paul-uk.com.
Eleven Leather Louboutins
Louboutin Chic by THE CHIC SPY featuring over the knee high heel boots
Christian Louboutin Unique 140 leather boots
, $2,395
Christian Louboutin Rolando Python
, $1,195
Christian Louboutin Jonathan Saunders 100 leather boots
, $675
Christian Louboutin Pigalle spiked ballerina flats
, $995
Christian Louboutin Miss Fast Plato
, $995
Christian Louboutin Mille Cordes
, $539
Christian Louboutin Bianca Sling
, $755
CHRISTIAN LOUBOUTIN 3100272 METALLIC SILVER WATERSNAKE SKIN –
, 644 GBP
Christian Louboutin Simple Pump
, $595
Christian Louboutin Ballerina
, $565
Christian Louboutin Relika Platform shoe
, 525 GBP
Ten Shadows Shimmering

Tarte Eye Couture Day-To-Night Eye Palette, $44, sephora.com.
Nine Pretty Perfumes
Eight Artsy Lips

Eight Lips by Avery Knox 7″X7″ stretch canvas print, $49.99, art.com.
Seven Stocking Stuffers
Six Glosses Glittering
Lancôme Juicy Tubes holiday gift set, $29.50, lancome.com.
Five Glass Rings
Ring Chic by THE CHIC SPY featuring a sterling silver ring
Four Shiny Birds
Jeweled Chic by THE CHIC SPY featuring a vintage brooch
Three French Tins

Saveur du Jour French butter cookies in Paris, $14.90, Champs Elysees, $12.90, or Eiffel Tower, $12.90, tins.
Two Purple Gloves

All Gloves basketwoven leather gloves, $76.80, bluefly.com.
and
Prada In A Pear Tree

Prada Cervo Shine deerskin bowler bag, $2,100, bergdorfgoodman.com.
Chicly Yours,
The Chic Spy