Hyde talks style, being an equestrian, and her new series "American Vandal"
The new Netflix Original series "American Vandal" premiered in September. The true crime series is about a high school prank that leads to a vandalism scandal when a suspected perpetrator is accused of the crime. Co-star Camille Hyde stars as Gabi Granger. The Washington D.C. native–who currently resides in LA–describes the character as "the girl-next-door who's always been the loyal best friend…honest and light-hearted, but has a quick wit and unexpected sense of humor that makes her really intriguing." This isn't Granger's first acting project. She is known for her role as Shelby Watkins a.k.a. the Pink Dino Charge Ranger in Nickelodeon's "Power Rangers Dino Charge," making her the first African-American Pink Power Ranger. In her spare time, Hyde is also an equestrian. To get more intel on her acting career and her style faves, I recently caught up with the emerging actress.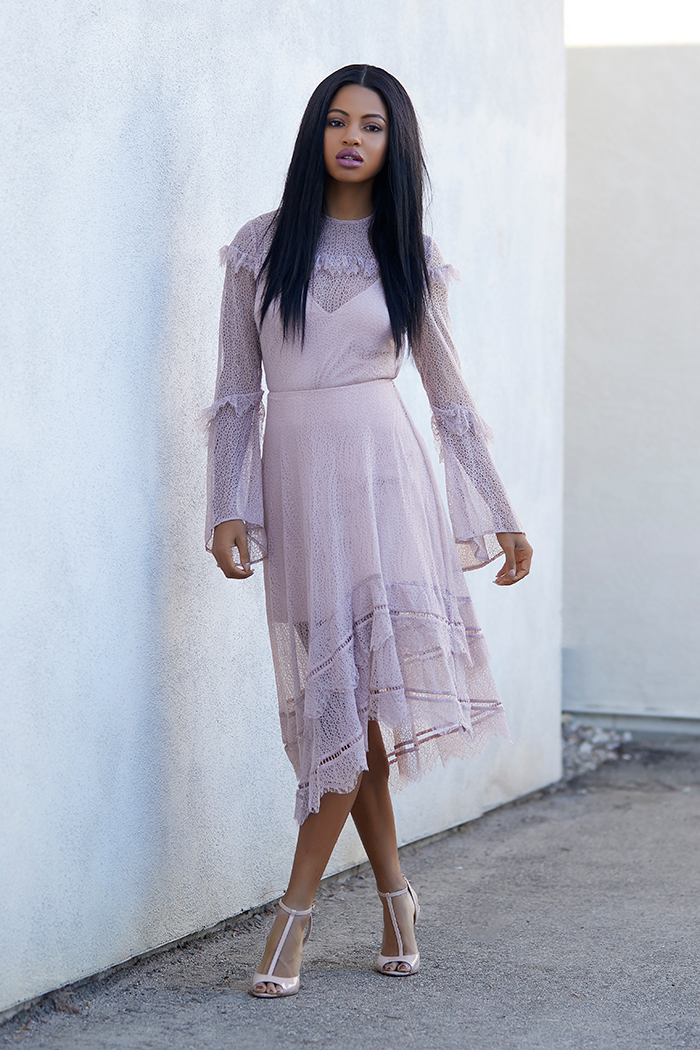 What inspired you to start acting? I started acting when I was 4-years-old in the first school play I had the ability to audition for. I fell in love with storytelling, and even more in love with film. I would leave theaters feeling like the main character for days after, and the messages and lessons in some films would stick with me indefinitely. This inspired me to dedicate my life to storytelling.
You are the first African-American Pink Power Ranger. Tell us about that experience. It's funny because when I auditioned for the role, I had zero clue that I would be considered the first black Pink Ranger so when the fans brought it to light, I was both shocked, but very proud. It's a concrete step toward the inclusion of diverse cultures in Hollywood, which has been an issue for years. I'm just honored that I could be an addition to that movement and inspire more young diverse actors to really pursue their dreams without the doubt that they don't "look the part."
What did you have to do to prepare for this action role? When we first arrived in New Zealand (filming location) we spent an entire month training with martial arts experts for three hours, daily. It was so much fun but super challenging. I still know how to round house kick and block a right hook. We also did a lot of solo conditioning as a team–running, stretching, strength training–which was helpful.
You are filming a new Netflix series called "American Vandal." What is the premise of the show? The show is essentially about an act of vandalism that occurs at a school. One person is singled out as the suspect, but claims it was not him. Gabi and her two best friends (Peter and Sam) take it upon themselves to figure out who the "American Vandal" is by vetting out and piecing together people's stories of what actually happened. But as the trio gets more involved in exposing some people's stories, it causes some tension in friendships, drama amongst social leaders and other plot twists.
The show is super funny in the least expected ways, I think that's why I love it so much.
Describe your character Gabi Granger. Gabi is the girl-next-door who's always been the loyal best friend to the main protagonist. He secretly wants more than a friendship with Gabi, but she's a bit out of his reach. She's honest and light-hearted, but has a quick wit and unexpected sense of humor that makes her really intriguing. The show is super funny in the least expected ways, I think that's why I love it so much. So excited for people to see.
You have starred in several TV shows, what has been your most challenging role to date, and why? I've been really lucky to play such fun and inspiring characters so it's hard to say. But if I had to choose one, it would actually be the episode of "The Night Shift" (2014-2017). I was recently played a young girl with a devastatingly obstructive tumor that basically kept her from living a normal life. Her family's religion kept her from being able to surgically remove it so she ran away to get the surgery done, but ultimately was caught in a moment of desperation and tried to harm herself … It was definitely a process to get my mind to go to a place where I was so desperate for something that I would put my life in jeopardy. It's difficult to imagine that some people live with obstacles that drive them mad, every single day. Although it was difficult and dark, it really helped me develop a sense of awareness that I deeply appreciate.
If you could act with any actor/actress, past or present, who would it be and why? There are so many inspiring and incredible actors I'd love to work with. If I had to chose one, right now, I would have to say Angela Bassett. I've been wanting to play her daughter for years! She's just so wicked talented and sends chills down your spine when she's on screen. Not to mention, the genius went to Yale. She's got it all. I can't wait to work with her. I would have loved to work with Heath Ledger as well. I fell in love with him in "10 Things I Hate About You" (1999) when I was 12 years old and always thought it would have been amazing to work with him.
Who is your Hollywood crush and why? I've kind of always had the hots for Nick Jonas. I was a huge Jonas Brothers fan when I was younger and always thought he was wickedly talented and a brilliant musician. Theo James is up there too. Can't deny a British accent to save my life.
What is your favorite quote? Nelson Mandela's quote about our deepest fear is so applicable to my life and experiences, it's definitely something I live by on a daily basis: "Our deepest fear is not that we are inadequate. Our deepest fear is that we are powerful beyond measure. It is our light, not our darkness, that most frightens us."
You are also an equestrian. How long have you been riding and do you compete as well? Does your riding training help with your role as an actor, in any way? Yes, I started riding when I was only 4 or 5-years-old. I started competing at 8. I haven't been able to ride in any projects yet, but it helps in terms of being able to escape and be myself, doing something that is completely out of the norm from the typical Hollywood life. That alone is extremely helpful because it makes me whole and grounded.
What would your fans be shocked to know about you? My fans would probably be shocked to know that I was a huge science nerd in school. My favorite subjects were Biology and Chemistry and I was the only student in my freshman Bio class to get 100% on every single weekly quiz.
If you were a Chic Spy Agent, what would be your code name? Agent Serial Snacker
Talking style and entertainment…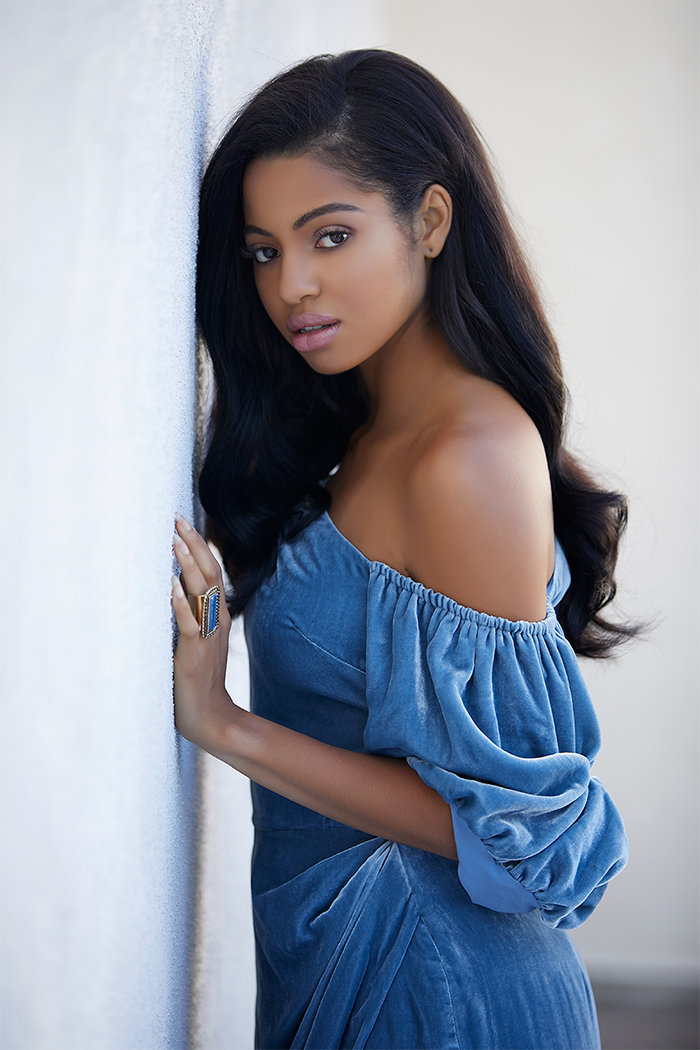 What is your style profile? I would definitely say my style is California Bohemian. I love pairing cute tops with daisy dukes or a fun skirt with a flow cardigan and wedges. But I also love dressing up for special occasions.
Favorite in fashion. My favorite fashion item is definitely my Longchamp handbag. I'm known for having a "Mary Poppins" bag with literally anything you'll ever need in it, so this bag is perfect for toting around all of my necessities.
What's always in your handbag? I always have some kind of snack bar (usually an RxBar), Carmex chapstick, Stur (natural water enhancer), Sunglasses, Coco-butter, hair ties, Wild Friends nut butter packets, Vitamin B, Matcha powder packets, and Smashbox lipgloss.
Favorite in beauty. My favorite beauty item right now is the Anastasia Beverly Hills contour powder palette. It does wonders.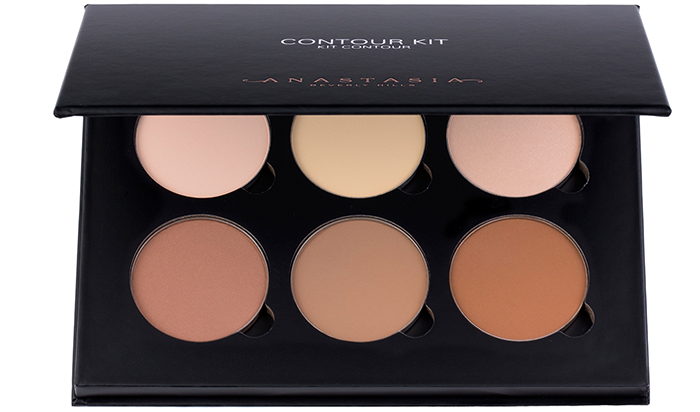 What's one beauty routine you do daily? I always, always, always put coconut oil everywhere–face, hands, body and hair. It's literally God's gift to earth. I also use a good SPF moisturizer–Clinique currently–to protect my face and usually use Smashbox matte lip gloss.
Favorite in food. I'm addicted to this drink called Trivino. It's super new, but we had them on set of the show I'm filming now, go90's "Mr. Student Body President," and I've been addicted ever since.
Favorite place to dine, and what you like to eat there. I am a total foodie so it's almost impossible to choose one but I do really love the little cafe, Honey Hi in Echo Park. They have all these innovative and daring bowls with contrasting flavors and textures and they use fresh herbs. I have a soft spot for fresh herbs and they have a ton of vegetarian and vegan options.
Image source: Mario Barberio