This is the season when our favorite TV shows and actors are on hiatus, leaving us to mull over cliffhangers, rewatch episodes online, and eagerly anticipate next season's premiere. I recently caught up with Emily Wickersham, who plays special agent Ellie Bishop on  CBS's "NCIS" for an exclusive e-interview to talk about her show and get intel on her style faves.
How did you get started acting? I left college after my sophomore year and because I was no longer in school, I decided to challenge myself and do things I was scared of. Acting was the last thing on my mind growing up and getting up in front of people and performing was something I never envisioned for myself. I would turn red at the drop of a hat if I ever had to read aloud in school. To me, acting was the biggest challenge of all. I signed up for acting and public speaking classes at the New School in New York. I was out of my element, but intrigued and interested in learning more. During that time, I met a modeling agent who sent me out on modeling and commercial auditions, and then on film and television auditions. Soon after, I booked one of my first parts and it was on "The Sopranos." After being on "The Sopranos," I was totally hooked and just wanted to do more and more.
How did you land the role on NCIS? My manager and agents set me up for an audition for the role of Bishop. I auditioned, was called back and then actually acted out some of the scenes with [Mark Harmon] and other cast members. I remember getting the call that I got the part; it was pretty incredible. Then it was a matter of keeping the job.
Do you identify with your character? I admire her a lot. She's a very hard working, driven person, who thrives on figuring things out and putting her all into everything that she sets out to do.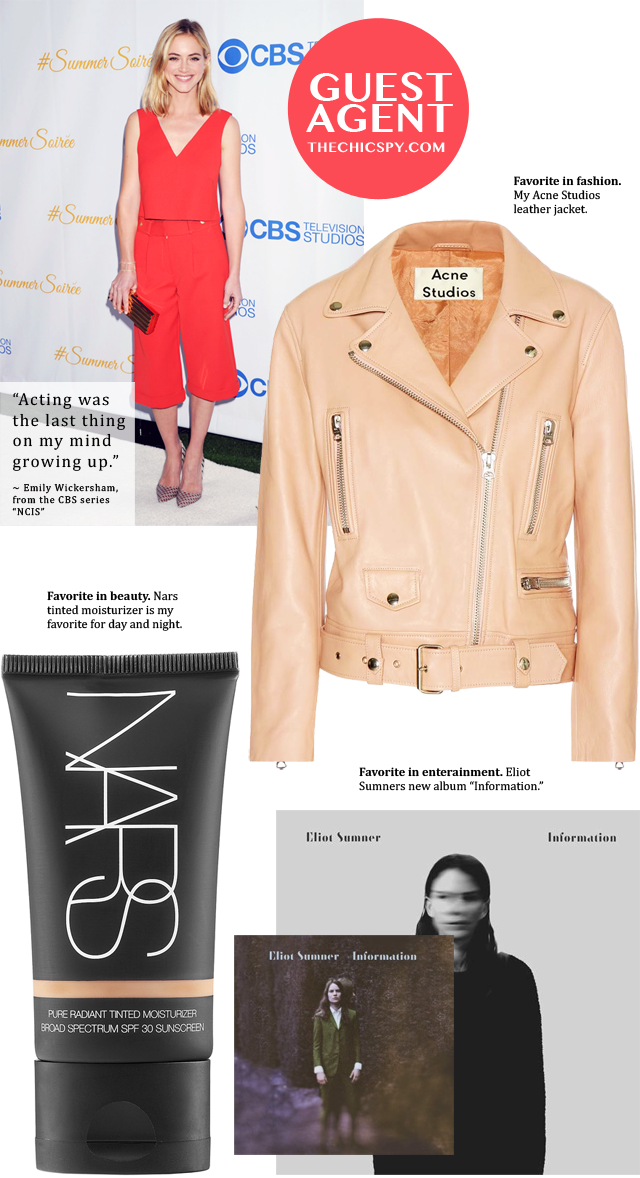 Acne Studios Mock Peach Leather Jacket (not actual) | Nars Pure Radiant Tinted Moisturizer | "Information" by Eliot Sumners
What item in your closet do you wear the most? My Re/Done jeans. They are my go to [jeans].
Favorite in food. I love Erewhon vegan chocolate chip cookies.
best cookie in town #erewhon vegan chocolate chip…. Kinda healthy? pic.twitter.com/YVkTljN5sl

— Emily Wickersham (@EmilyWickersham) December 5, 2013
What would your fans be shocked to know about you? Hmmmm … I'm really good at throwing a football.
What is the best advice you've been given as an actress? Don't give up. Keep learning and improving.
Finish this statement. When I'm not acting, I'm … Hanging out with my friends and dogs.
What is your style profile: Classicist, Minimalist, Mademoiselle, Contemporary, Glamazon, Bohemian, or Rocker? I'm casual and classic with a slight edge.
Favorite cocktail. Aperol spritz.
Favorite vacation spot. I love Paris for a city getaway.
If you were a Chic Spy Agent, what would be your code name? The Parisian Stripe.
Image source: Tommaso Boddi/WireImage