Has Hollywood cast a shadow on a shining star?
Mahogany skin, radiant smile, charming demeanor, and a super chic cropped 'do are what you'd notice when first laying eyes on the Kenyan beauty. But once you've had the opportunity to watch the Yale-educated thespian in character, you'd realize that there is much more to Lupita Nyong'o than her looks.
In 2013, the Mexico-born actress won a 'Best Supporting Actress' Oscar for her role as Patty, an abused slave in Steve McQueen's historical drama "12 Years A Slave," starring Chiwetel Ejiofor. As mysterious as the fate that befell the real-life enslaved woman, is the fact that the actress who portrayed her so empathetically, has only been seen in minor roles since. Nyong'o has won more than two dozen awards for her performances including Golden Globe and Screen Actor Guilds Awards.
It is unsettling that after winning Hollywood's second highest honor for an actress in a film, as well as other prestigious awards, that Nyong'o has yet to be cast as a lead in a big budget Hollywood blockbuster. However, it isn't shocking either. For years there has been criticism about how infrequently people of color are selected to headline a movie and subsequently honored with an Academy Award nod for that work.
In 2015, the hashtag #OscarsSoWhite became a phenomenon with celebrities and fans alike questioning the lack of Hollywood diversity, and when it does occur it's few and far in-between. An example of this is the 1939 Supporting Best Actress Oscar Hattie McDaniel won for "Gone With The Wind."
It would be more than 60 years before a woman of color would receive high honors from the Academy again, when Halle Berry won 'Best Actress' for the film "Monster's Ball" (2001), becoming the first African American woman to win this honor. Her emotional acceptance speech was a testament to this disparity.
A year after winning an Academy Award, Nyong'o had a small part as a flight attendant in Liam Neeson's "Non-Stop" (2014) and later in Queen of Katwe (2016), she had a more significant role as the mother of a teen chess champion from the slums of Katwe.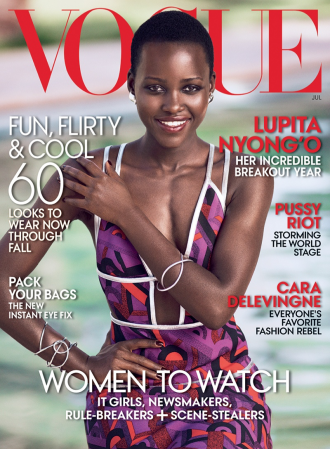 It's not to say she hasn't had tons of exposure. Nyong'o did grace the covers of major magazines including Vanity Fair, Glamour, and Vogue's July 2014 issue (left), making her the second African woman to do so. She's also the Lancôme brand ambassador, has performed in a Broadway play called "Eclipsed" (2015), for which she was nominated for a Tony Award, and she's voiced live-action/CGI films, "Star Wars: The Force Awakens" and "The Jungle Book."
But, I'm not so naive that I don't know why she hasn't landed a bevy of big roles. However, I do believe there needs to me more commentary on why Hollywood insiders don't realize the opportunity they are missing in not casting her–and other talented women of color–as leads in big budget films, like some of the other award-winning actresses.
Anne Hathaway has starred in several movies since her 2012 "Best Supporting Actress" for Les Misérables including "The Intern" (2015) with Robert Dinero and upcoming "Ocean's Eight" (2018) with an all-star female cast. Then there's Alicia Vikander who won 'Best Supporting Actress' for "The Danish Girl" in 2015. In 2016 she starred in "Jason Bourne" and "The Light Between the Oceans." In addition, she is slated to portray Lara Croft in a reboot of Angelina Jolie's "Tomb Raider" in 2018.
It's obvious that Hollywood has no problem shining the spotlight on Oscar-winning actresses, but in this case, Hollywood failed to come calling on Nyong'o for bigger roles, and it's no secret in the industry either, evidenced by insider remarks on HollywoodReporter.com in 2014:
An unnamed studio executive stated, "I don't think she has an audience–not yet. And there are so few roles for women of color; those roles are just not being written."
But just being African American isn't the only limitation. Having a darker complexion versus lighter skin, is an issue as well, according to TCA talent agent Jed Root's statement, "Would Beyonce be who she is if she didn't look like she does? Being lighter-skinned, more people can look at her image and see themselves in her. In Lupita's case, I think she has two-and-half, three years. If she can find a franchise–a Star Wars or a Bourne Identity–a big crossover film, or if she's cast by a significant filmmaker, then she's golden, she'll have carved out a unique path for herself."
In 2015, she did land a voiceover and motion action role in "Star Wars: The Force Awakens" as the unrecognizable 1000-year-old creature Maz Kanata, a pirate and smuggler. There had to be more out there for the formidable actress. Not that this isn't a good role to expand her repertoire, but what about movies such as "Ocean's Eight" (2018) and "La La Land" (2016)? Couldn't she be squeezed into "Ocean's" cast somewhere, maybe replacing singer Rihanna. What about the musical hit "La La Land" (2016)? Black actresses can sing and dance too.
Though she does have upcoming projects including Marvel's "Black Panther" (2018) starring Chadwick Boseman and reprising her role as Maz Zanata in "Star Wars" sequels in 2017 and 2019, Nyong'o does not have any leading lady roles on the horizon.
But there can be an upside to the diversity issues, as an unnamed casting agent elaborated on in the aforementioned Hollywood Reporter article: "For someone who looks like her, with a distinctly black, African face, maybe she's someone who can change the direction for darker-skin actresses, actresses who are definitely not European-looking, but it may require some forward-looking director to push for her."
That's the key–Hollywood execs who are daring enough to stand out from the crowd and see beyond the surface and willing to give audiences credit for recognizing great talent, regardless of skin color.
Now, don't get me wrong–studios, producers and directors have every right to choose who they want to bring their film and characters to life, but if all Hollywood heads adhered to a narrow-minded philosophy, we might not have the Audrey Hepburn as Holly Golightly in "Breakfast at Tiffany's (1961).
Truman Capote who wrote the book in 1958, was reluctant to have Hepburn star in the film adaption. He envisioned Marilyn Monroe in the iconic role. Now we all can imagine the disaster that could have been–the role needed that wide-eyed naiveté that Hepburn delivered. Monroe as Golightly, would not be the beloved classic that it is today.
The point is, when you have a shining star like Lupita Nyong'o, Hollywood has to do it's part to ensure there are more opportunities. This doesn't necessarily mean creating roles specifically for women of color, but rather being able to see the bigger picture of what a diverse actress might bring to any role, regardless of the pigment of her skin.
After all, a truly talented actress or actor can bring any character to life–that's the nature of their job.