NEW YORK — What do computer geeks and fashion designers have in common you may ask? Well, apparently a lot more than you may be aware as proved by this past week's Decoded Fashion event held at New York City's famed Lincoln Center. This venue, renowned for being the home of Mercedes Benz Fashion Week, was host to a day long forum of speakers and demonstrations all geared towards addressing the mergence of fashion with today's latest technology services, social media platforms, and communication tools.
"Fashion that tells a story and works in tandem with top technology sharing platforms … leads to ROI." ~ Amy Cole, Business Developer for Instagram
There were top executives in attendance including DKNY, Kate Spade, and Nicole Miller as well as the founders of some of the most recognized social media companies on the scene right now such as Instagram and Tumblr. There were also demos from companies such as Aurasma and Me-ality, who are slowly but surely blurring the lines between tech and fashion by allowing customers to shop in ways that are so high tech that they include body scans and remote access shopping available by merely snapping a picture of a desired item.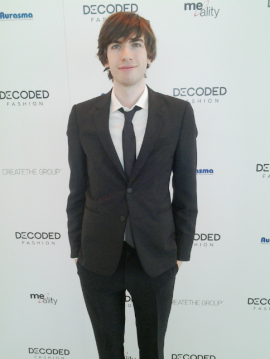 The beauty of the event lies in dispelling myths that the industries of fashion and technology are somehow very separate. In fact, this climate couldn't be any riper for fashionistas and geeks alike to join forces. Find this hard to believe? Take a minute to think about the last time you saw a blog post featuring pictures of street fashion. It was likely shared with you via Instagram, Tumblr, or Pinterest. Two of these platforms, which were the main focus of this year's event – are projects of boy geniuses Kevin Systrom, the 28-year-old founder of Instagram and David Karp, the 25-year-old founder of Tumblr.
What started as intricate ideas from Sillicon Valley hopefuls, exploded into a huge new direction from which people shared digital information. Thus, fashion in all of its ever-changing glory, quickly became a perfect subject matter to share in what has now become a completely content-driven commerce market.
The new wave of fashion and how we experience and eventually purchase items is centered entirely around building meaningful content that leads to business generation and revenue. The goal of many of today's top designers and retailers is to first tap into technology options that allow them to present their products, ideas, and inspirations in a way that is honest and appealing without being directly sales-oriented. Secondly, the idea is to make the buying process easy to link to when the viewer or prospective customer wants to seek out products to purchase.
In a brief chat with Amy Cole, business developer for Instagram, this process was described as a "fashion that tells a story and works in tandem with top technology sharing platforms, which in turn leads to ROI." An obvious advantage to driving the business through these channels is the ability to reach the maximum amount of future consumers with your brand in the most engaging and cost efficient option currently available. In this way, everybody wins.
With all of this talk of tech-infused fashion, it would be remiss to not bring up the fact that some more traditional fashion sharing avenues like magazine editorials, in-person fashion shows, and other marketing spots could possibly be taking a back seat in the future, to more real-time options.
During the Council of Fashion Designers of America (CFDA) panel discussion, we posed a question to Kate Spade president and creative director Deborah Lloyd:
As evidenced by this event, there are now all sorts of new technology surrounding the fashion business. Are there any concerns that perhaps these options will cause more traditional ways of sharing designs and products, such as fashion shows and magazine ads, to become obsolete?
"No [despite new technology], we will still [always] need some basic tools of creative sharing to [fuel] the tech sharing process … those things will never completely go away."
Ultimately, the infusion of technology into the fashion scene is a positive development and an almost necessary one if the industry is to keep up with the current wave of commerce.