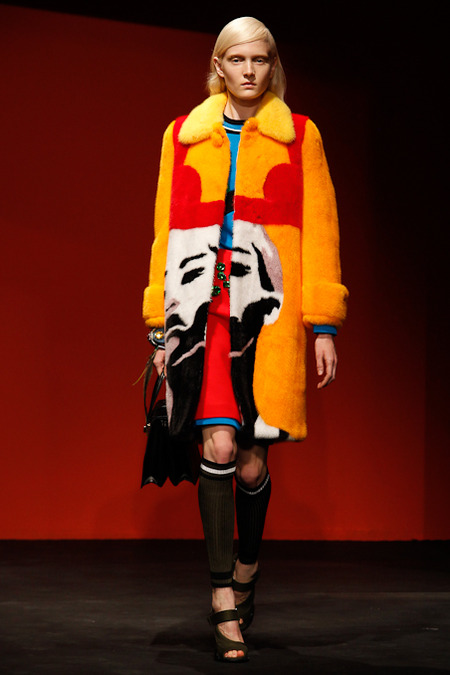 Miuccia Prada shows are one of the most highly anticipated of Milan Fashion Week. It is in her elements of cinema, feministic views and influential references to the past that is interpreted in all of her collections. In her well-suited vocation, Miuccia makes a statement as a powerful and poised woman in society, which has kept her in the lead as an inspiring artisan of fashion design. There is no lack in eccentricity to the Prada Spring 2014 collection. The oversized portraiture and color-blocked designs are reminiscent of the works of Pop Artists Andy Warhol and Roy Lichtenstein. Only the second day into Milan Fashion Week and Miuccia has dominated the runway with her bold aesthetic. The entire runway presentation paid homage to an artist's masterpiece with a mural serving as the backdrop to the show. The decorative wall meshed well with the vibrancy and attitude of the collection.
Striped varsity tube leg warmers paired with webbed sandals, dating back to Prada spring 2013, gave an air of a 60s mod look. Heavily embroidered embellishments and external bustier designs – some with intricate cut outs along the bosom area – were the stars of the show. The looks were accented with graphic art handbags; a perfect addition given that Prada's runway looks aren't complete without a standout accessory. And, to prove fur is back in full force, Prada showcased luxurious and brilliantly colored coats that draped thick wool dresses, exhibiting a mastery in layering. In true Prada style, Miuccia seems to have once again broken basic design rules with her montage of textures and textiles.
To finish the overall look, Prada beauty focused on light tone makeup with bleached brows. The hair was straight with side swept bangs. It was a look to envy and appreciate.