For more than a decade, Project Runway has regaled us with some of the most talented emerging designers, who appeared on the show in hopes of showing at New York Fashion Week, and being 'discovered' for their design skills. I've watched the series on and off for years, but couldn't help but tune in during Season 15, when I saw the beautifully structured designs from a striking woman with a closely cropped 'do, rich mahogany skin, and a velvety French accent. That woman was Laurence Basse, former model, born in Normandy–a city in the northern region of France.
Before landing a spot on the reality series, Laurence modeled for 15 years, working with brands such as Jean-Paul Gaultier and Benetton, and featured in magazines such as "French Elle" and "Cosmopolitan." As a designer on Project Runway, she made it to the coveted NYFW runway, but she did not win. However, when you are as talented as Laurence–love her signature leather jackets–your star is destined to rise. I recently caught up with the LA-based bronzed beauty–whose parents hale from Guinea Bissau–to get intel on her latest collection.
What was the first piece you ever designed? When I was a teenager I would take jeans and "Laurence" them out with drawings and Patchwork. Other kids would always want to buy them off of me. Guess I had the bug from early.
You have a penchant for leather, what draws you to this textile? I came from very humble beginnings and I remember whenever I saw leather I associated it with luxury, I was drawn to the beauty and the feel of it.
What inspires your design aesthetic? I love fast cars and motorbikes, some people would probably say I'm a "tomboy," so my design aesthetic is very much my style, which is very unique–not too masculine or too feminine. I love to be bold and extreme, leaving an impression on people's minds.
If you could design a look for anyone past or present, who would it be and what would you design for them? Grace Jones and I would make an amazing leather catsuit. Oh, I can see it now, she would be amazing in it.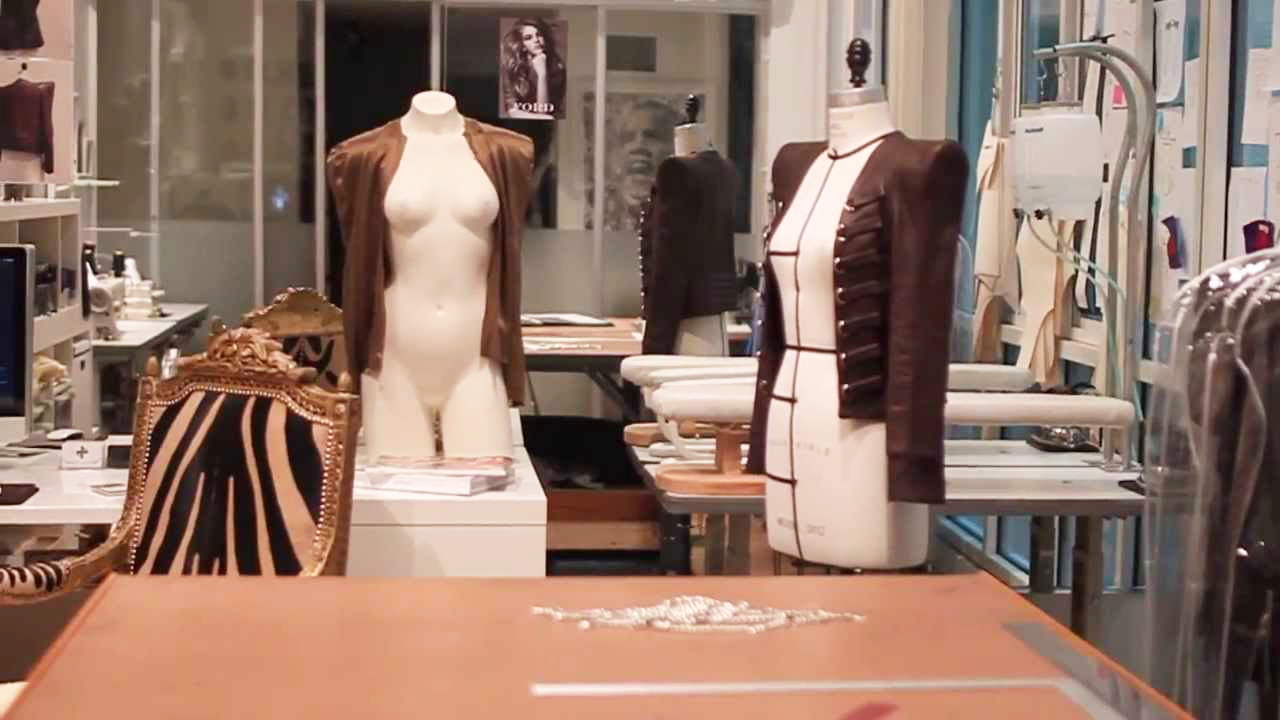 How do you believe being a former model has impacted your work as a designer? Being a model gave me a great advantage; behind the scenes at fashion shows in Paris Fashion Week and Mercedes Benz Fashion Week, with some of the most recognizable designers in the industry. I saw the work and details everyone had to put into a perfect show–the clothes, the models, the guests.
How do your daughter Victoria and son Marley, motivate your work as a designer? I was a mom at an early age so I had to  grow up fast and be responsible for another human being. I was blessed to have a successful modeling career when my daughter was growing up, and now I have my son as well…My kids mean the world to me.
---
What is your favorite fashion item and why? Sunglasses, very dope sunglasses. I own too many of them. I go everywhere in them–even to do laundry. I like to be incognito, from my days as a model people would recognize me from magazines and I still get a bit "shy" with people coming up to me in the street. So, when I have my sunglasses, I can pretend I don't see the people saying "Is that her?"
What beauty item can you not live without? Origins charcoal mask.
Do you have any exciting projects or collaborations in the works that you can share with us? Yes! I'm so excited, after the show I was approached to do my own line of shoes. I can't wait to introduce my new babies to the world. I also have a few more surprises, I'll talk about later.
If you were a Chic Spy Agent, what would be your code name? Badass. My fans from Project Runway gave me that name, and it kind of stuck with me. I even have a line of 'Badass' t-shirts.