Fashion gets muddied
Jeans are America's fashion favorite when it comes to go-to apparel. I can comfortably say that I believe almost everyone has at least one pair of jeans in their wardrobe arsenal, or have at least purchased a pair once in their lifetime. It's the one garment that can be worn by woman, man, and child. I think their may even be doggy denim!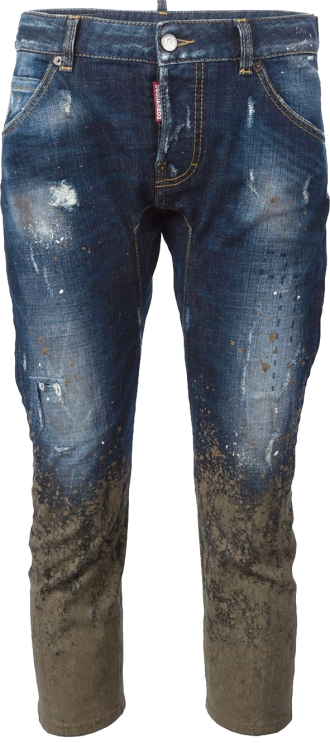 But I digress. After casually surfing social media, I came across a pair of $425 jeans at Nordstrom that appear to be smudged with mud. Yes, you read correctly–MUD. Admittedly, I've fallen prey to denim's many 'worn' variations from distressed to shredded, but the PRPS 'Barracuda' straight leg jeans, are not-so-chic. I mean who sits down, brainstorms cool new denim looks and comes up with dirty muddy jeans.
This fashion faux pas has not gone unnoticed either. Mike Rowe the host of "Dirty Jobs" didn't mince words about what he thought of this denim look: "The Barracuda Straight Leg Jeans aren't pants," Rowe stated on Facebook. "They're not even fashion. They're a costume for wealthy people who see work as ironic–not iconic."
The jeans at Nordstrom are for men, but women have been tempted with this style as well. The Dsquared2 mud print cropped jeans (right)–previously available on Farfetch–were fashioned as if the wearer's legs were dipped in mud.
These didn't garner a similar buzz, but if you are like me, you are probably wondering who would find muddy jeans appealing. Better yet, what statement are they trying to make?
Although online retailer Farfetch labels them as "mud print," Nordstrom tries to cleverly describe the 'Barracuda' mud-coated jeans as:
"Heavily distressed medium-blue denim jeans in a comfortable straight-leg fit embody rugged, Americana workwear that's seen some hard-working action with a crackled, caked-on muddy coating that shows you're not afraid to get down and dirty."
Has the state of fashion sunk so low that it's muddied denim? If that's the case, take the leap and do it the old fashioned way, get down and dirty in the mud and create YOUR OWN one-of-a-kind look–if you must. For those peeps who think this is chic and decide to purchase a pair, I've got some amazing beach front property to sell you in Arizona. Come on down!