3-Step guide to buying a quality bag
Handbags are undoubtedly one of the most coveted accessories in our wardrobe arsenal. From oversized to miniature and bucket to clutch, they come in myriad styles. What they do have in common, is our obsession for them. But selecting a quality handbag is essential if you want a lasting product, in both style and durability. That's why I was excited to discover Waremakers, an online purveyor of luxury accessories, whose mission is to carry products that are well made. I recently reached out to the team at Waremakers to get intel on buying a quality bag, and they shared a few tips.
Before anything else, consider how you will use your bag. Are you looking for a chic evening bag with a pocket for your lipstick, a durable crossbody with a padded shoulder strap, or a smart business bag with an internal laptop sleeve? Select a design to meet your personal needs that is equal parts functional and beautiful.
Once you're clear on what type of bag you need, it's all about the quality. But before heading straight for a designer label, read through the guide below to identify a quality bag from any producer that is sure to last well beyond one season.
Step 1: Identify the best quality materials
First things first. For your bag to last, it must be made from high-quality materials. Look for leather that has been vegetable tanned using natural tannins from tree barks and plants, rather than chemicals and acids. Over time, a high-quality, vegetable-tanned leather bag will soften and also acquire a patina–a unique, rich colouring that develops over the surface of the leather.
Premium leather should have a visible grain, as well as dense and compact fibres. To the touch, it should be soft and smooth, and flex easily. Many bags are treated with a synthetic coating, which makes them more rigid and can give off an unpleasant smell of plastic. Vegetable-tanned leather will retain a natural, more appealing scent.
Don't want leather? A high-quality cotton canvas is a great non-leather alternative. Look for a heavy canvas that is thick, but still allows for air circulation. Bags made of waxed canvas are treated to protect against heat and humidity, making them especially long-lasting.
Step 2: Pay attention to zippers and hardware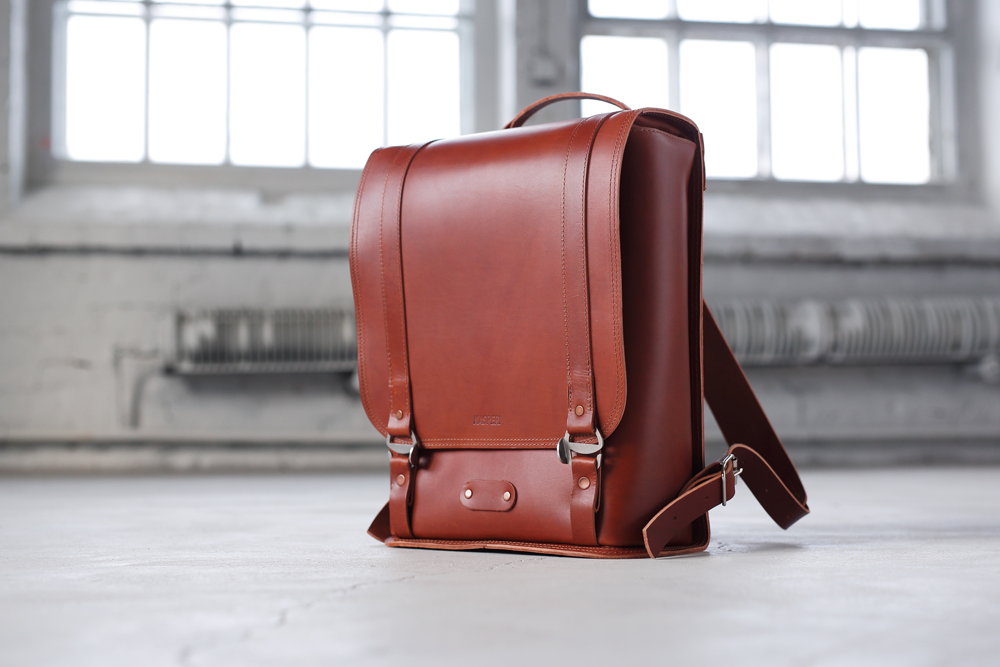 Take a moment to consider the number of times you open and close your bag over its lifetime. A quality zipper is an incredibly important feature. The first test of a high-quality zipper is how easily and smoothly it glides open and closed. Be sure that the zipper is set into the bag and that its weight and size are appropriate for the size of the bag. Look for zippers made of a robust metal such as brass or nickel. Japanese brand YKK is generally considered to be the best zipper manufacturer in the world, making it the zipper of choice for many designers of quality bags.
After zippers, hardware, such as buckles and rivets, can be a frequent cause of bag repairs. As with zippers, quality hardware should be made of a solid, robust metal such as brass, stainless steel or nickel, with a clean finish and no cast lines.
Step 3: Scrutinize stitching and choose a premium lining
Stitching is a small but substantial detail when searching for a quality bag. Quality bags should have stitching that is consistent, barely noticeable and free of any loose threads. Many producers even use premium braided or waxed linen threads because they are extremely sturdy and strong. To ensure durability, handles and straps should be securely attached and all stress points reinforced with double stitching.
While lining preferences are a personal choice, high-quality bags are typically unlined or lined with a natural fabric, such as cotton. Unlined bags should have visible fibres, giving them a raw feel. The reverse side of the leather is typically very soft to the touch as well. On the other hand, a high-quality cotton lining can easily be spot-cleaned and add additional protection to the leather interior.
You're all set with the tools to find the perfect high-quality bag! Want some inspiration? Check out the men's and women's bag collections at Waremakers. Each has been handmade by an independent producer in Europe, and carefully curated for its uncompromised quality and classic design.