GLOBAL — I recently visited Neiman Marcus and viewed items from the Ken Downing Gift Collection that were created in collaboration between Neiman's fashion director and designer brands such as Chanel, Stella McCartney, and Jonathan Adler. Whether you're shopping for holiday gifts or want to show a little self appreciation, these designer wares should definitely be on your radar; not only are they some of the most coveted gifts around, they're gifts that give back. Ten percent  of the proceeds from the collection will benefit The Heart of Neiman Marcus Foundation in support of arts education. At the top of my list for the girl who has everything is the sweetest treat imaginable – the studded leather, brass, and Swarovski crystal Alexander McQueen Union Jack metallic clutch, $1,795 (above). This glitzy accessory will jazz up any little black dress. Here are more of my designer faves from the fabulously chic collection.
Chicly Yours,
The Chic Spy
Chanel
Who wouldn't be excited for a DIY manicure after receiving the Chanel Limited Edition Nail Set, $375.
Maison Francis Kurkdjian
Perfume is perfect for gift-giving and getting. Maison Francis Kurkdjian Aqua Vitea Eau De Toilette, $245, is from the man behind iconic scents from brands such as Yves Saint Laurent and Dior.
Jonathan Adler
Decorative Jonathan Adler Needlepoint Pillows, $165-$175 each, make plush presents especially when they're embellished with witty sayings like "The Higher the Heel the Better You feel" and "I don't Do Fashion I am Fashion."
Hanro of Switzerland
Nothing more luxurious than slipping on a pair of silk men's pajamas such as the Hanro of Switzerland silk two-piece pajama set, $398. Wearing men's pajamas are so relaxing because they are oversized, which is perfect for lounging.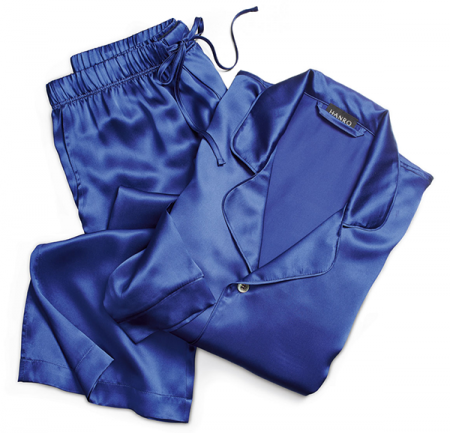 Massimo Bizzocchi
​Silk scarves are great as accents like a tie around your purse strap or as an ascot tucked in a classic white shirt. Give the Massimo Bizzocchi printed pocket square, $115, to your favorite guy or add it to your accessory arsenal.
Rizzoli
Want to know who Coco Chanel's haute couture rival was in the 20's and 30's, then check out "Jean Patou: A Fashionable Life," $95. It's chock full of photos, illustrations, sketches from the era.