I recently screened "Florence Foster Jenkins" and interviewed Simon Helberg, the film's co-star. After screening the film, I was inspired by the beautiful fashion and the care taken to always dress for the occasion, even if it's just to run an errand like the wide-leg trouser worn by Rebecca Ferguson or the floral hat donned by Meryl Streep. In a time where it's fashionable to wear jeans and sneakers almost everywhere, it was a refreshing flashback to an era when a casual look featured a fancy blouse and wide-leg trousers.
Fashion captured the zeitgeist of the 1940s with 40's fashion emulating what was happening in society during the time. Women were entering the workforce while men were away during World War II, introducing menswear for women. It was all about the silhouette, which was hourglass with a masculine twist—shoulder pads created the illusion of broad shoulders, bodices were cut to emphasize a small waist, and hips were full with baggy trousers and A-line skirts. Here are a few tips and looks to help you achieve a 40's look.
40's Dresses
Dresses and shirts in the 40s were cut to create the appearance of an hourglass figure with wide shoulders and a narrow waist. This was done with padded shoulders. A popular style featured a V-neckline with high waist and button down tops.
40's Skirts
Skirt styles popular for the era were A-line, which Christian Dior introduced. Another favorite was the pencil skirt, also created by Dior. They both came down to the knee.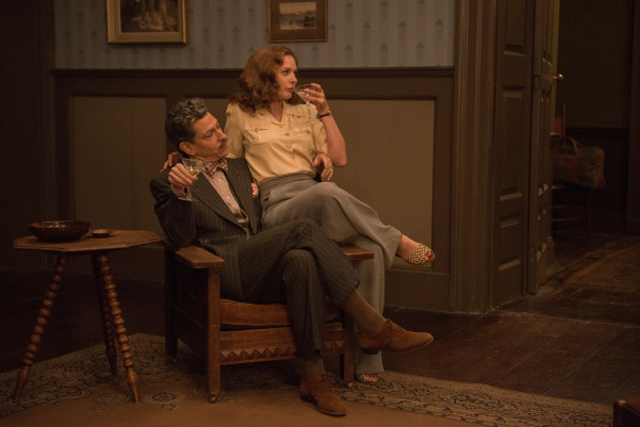 40's Pants
Trousers were typically reserved for men up until the 1940s. Actresses such as Katharine Hepburn made the look iconic, not to mention it became a work staple for women. The design was high waisted, with a button like sailor pants or a zipper and button closure to the side. The legs were wide and cuffed at the bottom.
40's Hats
Hats were small but not simple by any means. French-inspired berets saw popularity, along with adorned styles with jewel, flower, feather or veil embellishments.
40's Shoes
Shoes were more simple in this era with fabrics such as velvet and reptilian skins, due to a leather shortage during war time. The peep-toe wedge heels were introduced for dressier styles, For casual wear, there were menswear-inspired oxfords.