TV Land's newest show Younger inspired me to uncover ways to achieve a younger look without going under the knife or appearing artificial.
Admittedly, I'm slightly obsessed with the show, which revolves around recently divorced mom Liza (Sutton Foster), who tries to reenter the workforce but is shocked to discover that at 40-years-old, it's difficult to get an entry-level gig.
No matter what your age, who doesn't want a fresh look?
After meeting the much younger Josh (Nico Tortorella) at a bar, who thinks Liza looks around his age – and a little coaxing from her friend Maggie (Debi Mazar) – Liza decides to pretend to be 26-years-old. With a dose of confidence and a head-to-toe makeover, Liza lands a job as an assistant to demanding Diana (Miriam Shor) at a book publishing company. In the process she meets new bestie Kelsey (Hilary Duff), a 20-something co-worker.
It's hilarious watching Liza trying to keep her secret from being exposed, and she's had some close calls from being spotted by friends while out on the town with Josh to while receiving impromptu calls from her adult daughter who's 'studying' in India, which happens to be her excuse for not being in the know on such things as Twitter and messaging acronyms such as IRL. But just how easy would it be to look a decade younger than your actual age? Check out the roundup of tips below:
Acne and Blemishes
A good skin care regime is a must, especially if you've ever been plagued with acne or other skin blemishes. Three steps a day might have been the solution when we were tweeners, but as grownup girls, we need to be more attentive to how we care for our skin and that starts with keeping it clean. This has been said before, but can't be emphasized enough. NEVER go to bed with makeup on your face. It's like jumping into bed right after a hard, sweaty workout in the gym. Gross, huh? I'm usually not a fan of drugstore beauty products, but I do have a few faves in my beauty arsenal and one is the Wet n Wild Under the Sheets Makeup Remover Towelettes.
Dry and Wrinkly Skin
Use a lightweight moisturizer and feel free to apply throughout the day for a dewy look. A way I sneakily get moisturizer into my daily routine is to mix a dime size portion into my mousse foundation. It creates an amazing finish that gets me plenty of compliments about how flawless my complexion looks. In the summer I like to keep it light with H20 Plus Face Oasis Ultra Hydrator and in the winter I prefer H20 Plus Face Oasis Ultra Hydrator and in the winter I prefer Benefit Cosmetics Total Moisture Facial Cream.
Discolored and Uneven Skin Tone

Try a BB cream or a concealer for those areas that need a little attention. If you need/want more coverage, make sure your foundation is an exact match a.k.a it should be the same color as your neck. Think of it as a blank canvas. It should appear as if you are worrying no makeup, although you'll know you are – every girl needs a few beauty secrets. I love the Smashbox Camera Ready BB Cream Eyes Broad Spectrum SPF 15 in five shades light to dark. I dab it wherever I feel needs a little coverup.
Thin, Cracking Lips
Full plump lips are a sign of youth. Just look at little babies with their glowing face and rosy-lipped pout. Skip the collagen injections and instead stock your arsenal with a lip plumping gloss, liner, and moisturizer – and don't forget to exfoliate your lips at least once a week. My go-to lip exfoliant is the Fresh Sugar Lip Polish.
Frumpy Fashion
Youth up your look with well-fitting clothes. Outfits that are tailored to fit your body are so flattering, whatever age you are. One thing men do that women don't as much is have their clothes fitted, from nipped and tucked blazers to shortened hemlines and for women, this includes skirts. When you find skirts and dresses that you love, feel free to adjust the hem to what looks best on you. If the services of a tailor or seamstress are not in your budget, purchase a simple sewing kit like the Hollywood Fashion Secrets Soft Sided Fashion Emergency Kit.
Limp and Lifeless Hair
Just as our face needs a routine, so does our hair. Sometimes I can be guilty of hair neglect, but hair can be a tell-tell sign of age, especially if the luster is gone and grey has arrived. Grey can be chic if it's that all-over white and silver variety that looks intentional (a.k.a. Rihanna's latest dye job), but the stray-a-ways, not-so-much. Hair that has lost its luster can be a downer on the face, so use a moisture-intense shampoo or oil treatment to keep locks lustrous. My hair elixir of choice is the MoroccanOil Treatment.
Trend Overload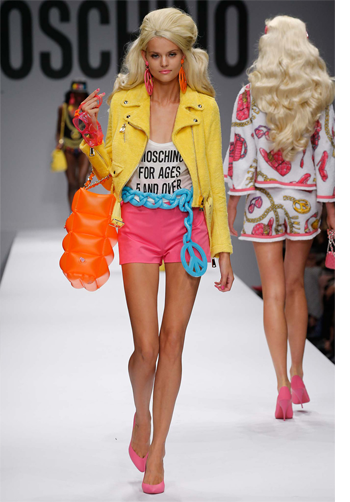 Head-to-toe trends are a no-no. Each season, think of it as a shopping treat and pick pieces you really like to incorporate into your wardrobe. Avoid trends that obviously don't work for you. One of my favorite runway shows for the season was Moschino Spring 2015 because of its tongue-in-cheek nod to Pop Art. It was fun and whimsical. But remember, just because it made it onto the runway, doesn't mean it should make it into your closet.
Image source: Bellomag.com (Moschino Spring 2015)
Freshman 15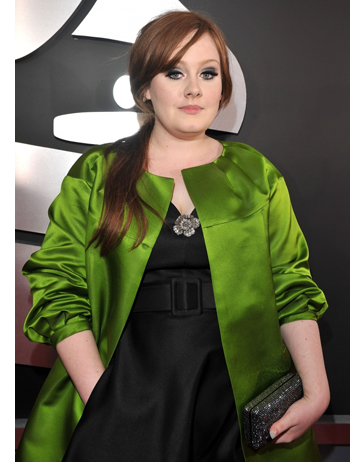 For some, extra weight can be aging. Whether you gained weight your first year in college or you are battling the post-baby bulge, there are covert ways to wear your curves so that they don't wear you. Know your body shape. Are you pear or apple? Once armed with this knowledge, you can select pieces that accentuate your figure. A pencil skirt is a great way to camouflage bottom-heavy figures while a full circle skirt is great to balance heavy on top and small on bottom shapes. Also have fun with color and use it to draw more attention to one area and distract from another like songstress Adele did at the 51st Annual Grammy Awards. Her smaller shoulders and wider hips were balanced with a bright apple green jacket with pleated details at the collar. Bright color has a youthful allure, too!
Image source: Grammy.com
Limp In Your Step
There's nothing worse than a woman who looks like she's having a hard time walking in her shoes. Just as bad is the result of ill-fitting shoes, is haggard-looking feet. You know the crooked and crammed toe look from too many years of wearing shoes that cramp your feet. In the fall, they can be easily camouflaged in chic riding boots and pointy-toe pumps. But, during spring and summer time when it's all about pretty pedis and sexy sandals, your feet can definitely blow your cover. Keep feet moisturized, indulge in foot massages, and avoid shoes that crush your feet. There's nothing that says youth, than when you have a pep in your step. I'm loving Burt's Bees Coconut Foot Creme and Lemon Butter Cuticle Creme. It's paradise for the feet.