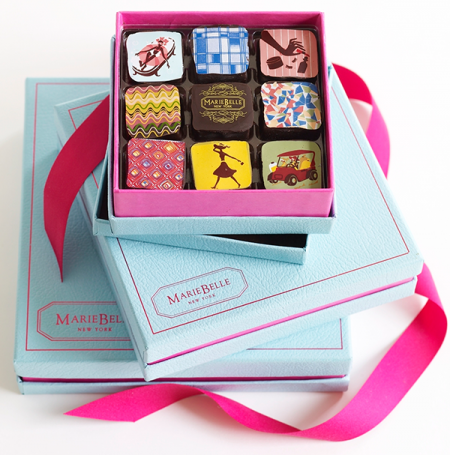 ​NEW YORK —​ Maribel Lieberman does for chocolate what Coco Chanel did for fashion. At her shop MarieBelle New York, she offers a delectable selection of gourmet chocolates enriched with flavors such as hazelnut, lemon, and saffron. What adds to the uniqueness of her chic confections is the detailed artistry that top each piece with fun style-inspired designs such as quirky female characters, fashion motifs, and fabric-like patterns. I caught up with Maribel for a Q&A to get the scoop on her chocolates and her creativity and unique style as a chocolatier.
What inspired you to become a chocolatier?
I've always harbored a deep passion for food, and particularly chocolate. Chocolate is one of those mysterious ingredients that for some reason I find it intriguing because it doesn't only taste delicious, but it gives me a feeling of happiness. Just the word "Chocolate" is magic, so chocolate to me is happiness to all the senses. I do like to combine visual art with chocolate because I feel I am stimulating the senses – first you engage your sight, and follow with taste. Chocolate becomes a more complete experience.
How do you go about creating a signature confection?
When I create a line of chocolates or a new confection for the brand, I always reach to my roots in fashion by looking for inspiration in a specific culture, trend or mood.
What takes place from concept to production?
The creative process starts with an inspiration, which I find daily in the world around me. Then, I put my inspiration down 'on paper,' and in color. The next step logistically is to research whether the new creation can be translated properly with cocoa butter paints and silk-screened onto a one inch square chocolate canvas. Any adjustments are made and then the chocolate is created by hand, one-by-one.
How does MarieBelle differ from other chocolatiers?
MarieBelle is about pure ingredients, fine taste and true beauty. We really are interested in creating a complete sensory experience through chocolate.
What do you want people to know about MarieBelle?
MarieBelle is all about exciting the senses. We define all our creations with three words: quality, delicious, beautiful.
For more information about MarieBelle New York chocolates, visit mariebelle.com.
Chicly Yours,
The Chic Spy
(Photo credits: MarieBelle New York)
Original interview posted January 2007