Global — Besides the obvious purse includes such as a smartphone, leather wallet, and key fob there are a few essentials that every chic girl needs in her handbag. Below are my must-have purse fillers for the busy girl on-the-go.
1. Wallet Case

Instead of a traditional wallet, why not try a multipurpose case like the Kelly Vivanco flight wallet case, $36. You can use it to carry your cash, credit cards, even business cards.
2. Small Sketchbook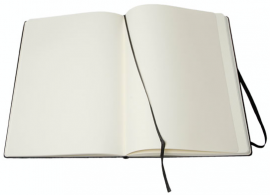 If you're like me, you like to doodle, jot notes, and make the occasional freehand sketch. I keep a notebook in tow for such occasions. Try the Notebook Moleskin Folio A4 sketchbook, $29.95.
3. Color Pencils

A set of color pencils will come in handy when using your sketchbook at a coffee shop or for quick fashion doodles at a runway show. I picked up this Jean Paul Gaultier Sketch Neon color pencil Tin, $18.95, when I previewed the "The Fashion World of Jean Paul Gaultier: From the Sidewalk to the Catwalk" at de Young Museum in San Francisco. The tin cover is embellished with Gaultier's signature sketch. Très chic!
4. Lip Balm

A little lip gloss can perk up your look so always hve some on hand. My favorite is Benetint lip balm spf 15, $20. It keeps my lips rosy and soft.
5. Lip Brush

A brush is perfect for applying potted gloss or balm. I just snatched up the Dior lip brush, $22. It has goat hair and is retractable. J'adore Dior!
6. Compact Mirror

A compact is a must when checking and applying makeup. I am so wanting the Lulu Guiness cameo round dual mirror compact, $95.
7. Mini Perfume

Refreshen your fragrance with a mini version. My favorite scent of the moment is Burberry Brit Sheer. This roll-on perfume, $25, is perfect for stashing in your bag. The scent is fresh and fruity with floral notes.
Chicly Yours,
The Chic Spy