San Francisco — One of the biggest highlights of the Frisco fashion scene is the annual Fashion On the Square, the largest and longest running fashion show on the West Coast. During the 8th Annual Fashion On the Square (FOTS), which will be held August 5th at the Intercontinental Hotel, the FOTS 2012 Fashion Designer of the Year Award will be presented to Joseph Domingo, who will be showcasing his latest collection.
In addition to celebrating some of the most fashion-forward designers around the globe, Fashion On the Square raises money for various charities each year. This year, the beneficiaries are the San Francisco Arts Commission and Inner City Youth Sports.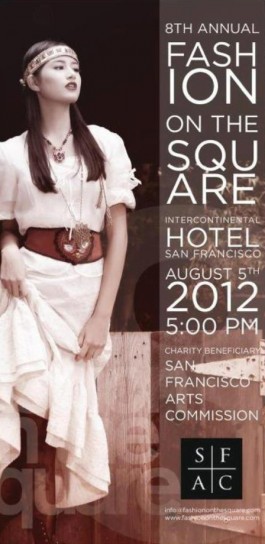 Over the years, designers have traveled far and wide to participate in this sartorial event. Past designers and celebrities to participate have included, Nik, Bre and Marjorie from Ameica's Top Model and Project Runway's Chris March and Jay Sario.
In addition to Domingo's collection, the runway show will feature 50 models of all ages rocking the runway sporting looks from Dark Garden, DSW, Banana Republic, Charmosa Swimwear, Old Navy, Keneuoe and Randy Rowden. There will also be a raffle with posh goodies from sponsors.
Early bird ticket prices end Monday, July 16th and this will be an event too hot to miss, so for more information on how to attend, visit fashiononthesquare.com.
Chicly Yours,
The Chic Spy