From L to R: Yuli Ziv, Founder and CEO Style Coalition; Keynote Speaker Norma Kamali; Host Robert Verdi at the 3rd Annual Fashion 2.0 Awards Presented by Style Coalition
New York — Your favorite sartorial sleuth couldn't be on the scene for the 3rd Annual Fashion 2.0 Awards sponsored by the Style Coalition, but a few Chic Spy Agents were, and they shared the deets from one of the biggest events to kick off Mercedes Benz Fashion Week. More than 450 fashion and tech insiders, including social media mavens from DKNY, Oscar de la Renta, Marc Jacobs, and Bergdorf Goodman, showed up to New York City's SVA Theatre for the event, which was also watched by thousands via live stream.
The breadth of this year's nominees and winners shows the importance fashion brands have placed on the medium, said Style Coalition Founder and CEO Yuli Ziv. It's so exciting and gratifying for the brands that their fans voted and recognized their efforts in connecting with them via various social channels. The Awards capture the spirit of social media and the ceremony brought together all of the talented people who are driving the innovation.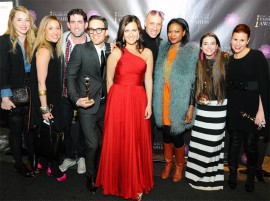 From L to R: Natalie Klark and Melissa Klaxberger, Kate Spade; Chris Bauer, Daniel Plenge, Marc Jacobs; Yuli Ziv, Founder and CEO of Style Coalition; host Robert Verde; Felicia Walker Benson and Cannon Hodge, Bergdorf Goodman; Aliza Licht, Donna Karan/DKNY
The 2012 Fashion 2.0 Awards Winners
Chicly Yours,
The Chic Spy
(Photo credits: Sunny Norton)