San Francisco — While on a mission looking for posh accessories, I discovered a chic boutique online called Circle & Square, located in San Francisco. From printed scarves and leather belts to vintage jewelry and classic clutches, there are myriad options.
A few of my favorites include a sterling silver and turquoise necklace, colorful croc cuffs from Columbia, a hand-printed pasmina scarf with images of Vogue covers, and a stainless steele Art Deco clutch from Jill Milan. Coincidently, Anne Hathaway was spotted at the red carpet premiere of The Dark Knight Rises in New York last night carrying a similar clutch from the designer.
These are just a few examples of the craveworthy items one will find at the Bay Area store. I recently caught up with Bunny Touby Fayne, who is co-owner with Tracy Kulvin Albers, for an interview to discuss the boutique, the designer confections they carry, and the four T's of dressing for an occasion.
TCS: Where do you find the designers and unique items?
BTF: Constantly searching, reading, questioning, and at this point they are finding us.
TCS: Which items have been popular for summer?
BTF: Jewelry, handbags, and scarves are huge.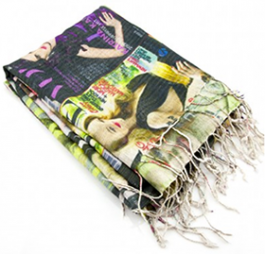 TCS: If you could style anyone past or present, who would it be and what accessories would you use?
BTF: I love E. Jean Carroll [Elle columnist from Ask Jean] … um … everything!
TCS: What fashion garment or accessory can you not live without?
BTF: My silver chains. I wear them everyday.
TCS: Where would you like to make a great escape to this summer?
BTF: Stinson Beach, believe it or not.
TCS: Can you share a few style tips with us?
BTF: Time, temperature, type and turf. All you need to know to prepare for an event.
TCS: If you and Tracy were Chic Spy Agents, what would be your code names?
BTF: Dick Tracy, but that's too obvious. For moi? Brita Tott.