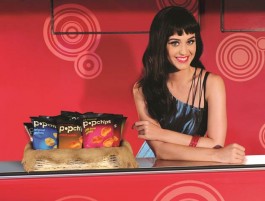 Global — Popchips, the flavorful air-popped chip has a new face, and voice, to their brand. Katy Perry, who is a fan of the brand, has joined as an investor and will be in upcoming Popchips ads.
Popchips, which has also been favored by Ashton Kutcher, will launch their first national ad campaign this coming fall featuring the songtress, who recently became an actress in Katy Perry: Part of Me 3D (2012), a documentary chronicling her life on and off stage.
Before becoming a financial backer and brand ambassador, Perry enjoyed Popchips as a consumer and remembers her first taste of the crunchy snack:
I remember it was late at night and I was craving a midnight snack without the guilt. The bag stood out in the minibar, and I was pleasantly surprised when I read the back of the label and saw that it was a healthier choice. I was hooked after my first bite! When I discover something good, I want to share it with everyone I know.
Popchips is known for their innovative and fresh marketing, just as much as their yummy chips. I'm definitely looking forward to their new ads featuring the whimsical popstar.
Chicly Yours,
The Chic Spy