Global — Besides being fabulously funny and witty, Mirror Mirror starring Julia Roberts and Lily Collins featured an amazing lineup of costumes designed by acclaimed Japanese costumer Eiko Ishioka. Although Ms. Ishioka did not get the honor of seeing her beautiful designs grace the big screen (she died January 12, 2012), her work in this film is an opulent homage to her talent as a designer. Intricate details, lustrous fabrics, and regal silhouettes make the costumes practically dance off the screen. Here are a few looks that I think shined as bright as the stars who wore them for the film.
Costume designer Eiko Ishioka on the set of Mirror Mirror.
Golden Glory

Vast shades of gold and yellow were used to design the wardrobe from the Queen's (Julia Roberts) court dress above to Snow White's (Lily Collins) riding cloak below – the vibrant hue is bold and rich.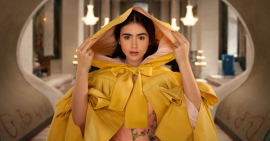 Regal Reminiscence

The silhouettes of the gorgeous gowns were reminiscent of elaborate court dress, colorful and intricate in decoration, worn by iconic fashion figures in history such as Marie Antoinette. (Above Julia Roberts as the Queen in party frock and below in wedding gown)
Courtly Charm

Snow White's lovely frocks were charming and whimsical. Above Lily Collins dons a swan inspired gown to attend a royal soirée and below in Snow White's classic two-tone cerulean blue dress accented with orange.
Chicly Yours,
The Chic Spy
(Images Courtesy of Relativity Media)