SCOTTSDALE — We're always looking for the next "it" bag to covet so when Neiman Marcus invited me to their store to interview Colombian handbag designer Nancy Gonzalez, I jumped at the opportunity. When we think of designer handbags often brands such as Hermès, Prada, and Chanel come to mind, but if you haven't already spotted her crocodile arm candy, then you should put Nancy Gonzalez on your radar and her bags in your accessory arsenal. Inspired from her native country, her bags are vibrantly colored, crafted from fine exotic skins and have been spotted on celebrities including Sofia Vergara, Hayden Panettiere, and Britney Spears; as well as on the small and big screens in Gossip Girl and The Devil Wears Prada.
For fall 2013 she mixes skins and patterns, from a crocodile bag woven with snake skin to one embossed with leopard print – in a way, she has created her very own exquisite creatures. Besides innovative, the eponymous designer can also add humanitarian to her bio as she is rooted in her community in Colombia where she hires mostly women and offers childcare for her employees. In our interview she discusses her design inspiration and shares the name of a chic celeb who loves her bags.
How have you been inspired by Colombia?
I really believe in roots and I was born there. I think if I need to give something it has to be what I have. I really believe that you can give only what you have and I've been enjoying my roots and trying to understand the things that I have there and we have amazing, beautiful things. We have the nature, we have a lot of colors from the birds, we have orchids, we have fruit – we have so many things. I think the weather for me, it's been very important because I love blue skies – I think it's all these type of things and the joy of life that the Colombian people have.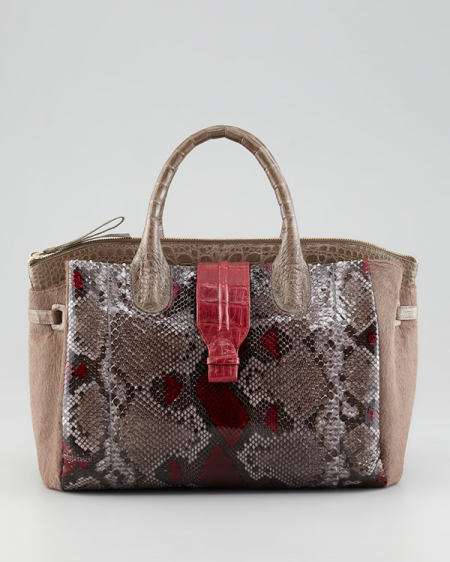 Your collection is very nature inspired.
Yes, I really love nature. I always say that nature is my best accomplice. I feel connected with nature. I always wanted to use real materials, real things. All this together became my inspiration to do the bags and to do what I'm doing.
What inspired you to mix the exotic skins?
To be honest, when I was designing the collection I enjoyed it so much that it's like playing. I always want to offer new things; new skins, new treatments, new colors, and new shapes – something new. Because I'm a customer too, I really like when I see different things. Because of that … I decided to try to create my own skins. (Pictured above Nancy Gonzalez crocodile, python, and calf hair tote bag, $2,950)
Like your own animal?
Yes, my own animal. Like zebra mink. Like leopard crocodile. Like a zebra croc.
It was like a fantasy land.
Yes it was and I enjoyed it so much. It was very very fun to be honest.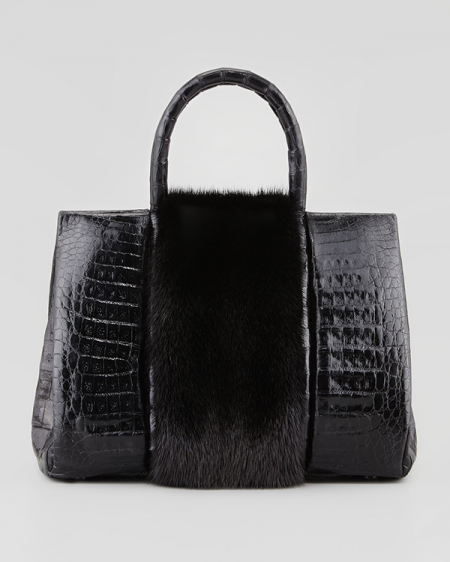 What's your favorite piece from your current collection?
I think the zebra mink because I love fur … because of the touch. I really love them. (Pictured above Nancy Gonzalez small mink fur-stripe crocodile tote bag, $3,650)
Were you inspired by other designers?
I don't think it's inspiration. I really need to see what designers are doing, just because I want to offer something different. You have to find something different. Why are you going to do the same thing. The point is to offer something totally different. But it's important to know what is going on. Once, I was looking at this special treatment like a flower for months and then I went to Paris to Yves Saint Laurent store and I found something similar. I had to cancel the project because [it was way too similar].
You want to be individual and unique.
I think it's a big challenge because I do like 150 styles per season and it has to be totally different even from my last collection.
If you could create a bag for anyone past or present, who would it be?
I would create a bag for my mother because she is really difficult to please (laughs). In handbags, in shoes, in everything. She's really very difficult to please and she's honest.
If you could have one of your bags used in a film or on TV, which show would it be?
That's very easy. Sofía Vergara (Modern Family) and she carries our bag. She's Colombian, she's beautiful, talented and with such a great energy.
Which bag could you see her carrying on the show?
Cristina bag. She carries the Cristina bag in blue (pictured above Nancy Gonzalez Cristina crocodile shoulder tote bag, $3,750).
What's on your radar for the future?
Many surprises!
Any sneak peeks?
Well no, surprises are surprises. You have to wait for it (laughs).
Chicly Yours,
The Chic Spy
(Photo credits: nancygonzalez.com and neimanmarcus.com)