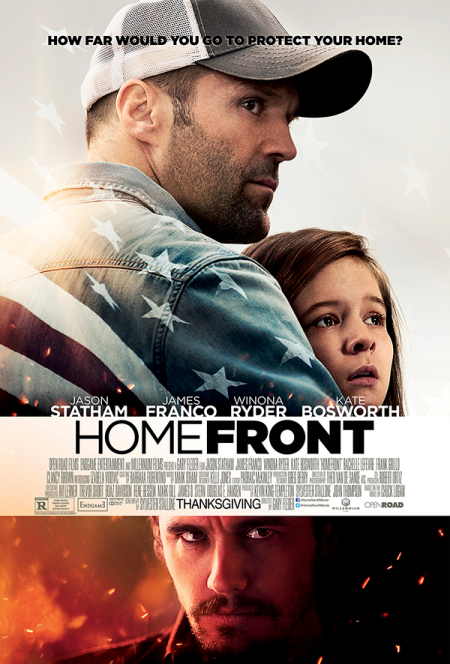 GLOBAL — If Jason Statham is in a film, I'm sure to love it. Arguably, he may play similar characters in each of his films, but he does it oh so well. After all, if it isn't broke then don't fix it. Right? In the film Homefront – written by Sylvester Stallone (The Expendables) – Statham plays Phil Broker, a former DEA agent who's hiding out in a small town with his 10-year-old-daughter (Izabela Vidovic) after infiltrating a drug-dealing biker gang. You'd think seeking refuge in the country would be just the answer, but soon he discovers it could be the worst decision ever. Here's 3 Statham scenes to love in his latest action flick.
1. Statham the Supportive Dad
We're so use to Statham playing the somewhat dark leading man who sleekly maneuvers his way out of tough situations and skillfully eliminates the enemy. But there's more to his character this time around. Here he balances the tough guy persona with that of a loving dad to an impressionable tweener, who by the way is no rookie to taking down bullies in the school yard. Wonder where she gets that from?
2. Statham vs. Franco
In the film, Statham's character Broker takes on small town drug dealer Morgan Bodine (James Franco) after Bodine's drug-addicted sister (Kate Bosworth) asks him to teach Broker a lesson for out-fighting her husband. Gator, as Franco's character is nicknamed in the backwater country town, is not only a criminal but mentally unstable too. This makes for an intriguing dialogue exchange between the two men when they encounter each other in a bar. Also in this scene is Winona Ryder as Sheryl, Franco's druggy girlfriend and accomplice in an attempt to set up Broker.
3. Statham Saves the Day, Again
And of course we know the action adventure leading man is bound to save the day. But most of his hand-to-hand combats usually end with the other guy going down for the count, permanently. But when Franco gets the upper hand, Broker turns the tables on him and we once again get to see the softer side of our favorite tough guy.
[youtube]https://www.youtube.com/watch?v=1Dy4mbpaa3I[/youtube]
RADAR RATING: 80%
Chicly Yours,
The Chic Spy
(Images courtesy of Open Road Films)