After four years of high school, being secluded from the world of teenage adolescence, and the loss of a loved one, Jade (Gabriella Wilde) decides to take a 'leap of faith'. David (Alex Pettyfer) whom always admired Jade from afar, becomes her catalyst in finding love and passage to salvation in the film Endless Love. But there's one thing standing in her way, her pretentious father Hugh (Bruce Greenwood), who is focused on Jade's future and determined to keep David away. Meanwhile, Jade's mother Anne (Joely Richardson) admires the love David has for her daughter and wants to feel that connection with her husband. Jade also has two brothers: Keith (Rhys Wakefield), who is less acknowledged by his father after the death of her other brother brother. The family mourns the loss, but they are brought back to life because of David's influence on Jade. Disregarding Hughes disapproval of his daughter's relationship, David is forced to fight for the love he's finally found. It's the forbidden romance that makes this movie the ultimate chick flick and here's 5 reasons why it should be on your radar.
1. Ah, the kiss
Don't we all remember our first kiss? It's likely that we all tend to fabricate our story and tell others how it was like a scene we only know from fairytales. This wasn't so for Jade Butterfield. As her father escorted her prince out the door, she made her way out back and David was transfixed after receiving the sudden lock of his loves kiss.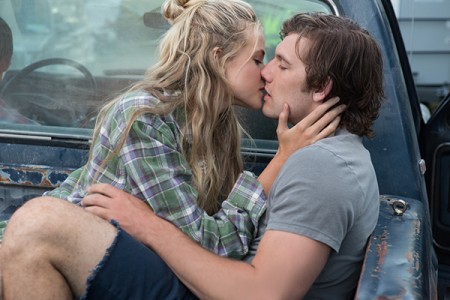 2. True Love
It was quite obvious that the two were contagiously in love with each other. Their ten-day romance turned out to be the beginning of a promising future. David only showed Jade the love he yearned for, and Jade regained the passion she once had. The two were inseparable, but come the final days of summer Jade's father is forced to end the relationship by revealing David's history.
3. Revisiting the Past
After David, Jade and friends get caught trespassing while having fun at a local zoo, David takes the fall for his friends. He is put into custody, but bailed out by Hugh after pleas from both Jade and her mother. But Hugh has one condition that David must agree to.
4. Leaving Without Saying Goodbye
Hugh threatens reveals that Jade is leaving for an internship program and provokes David into hit him in the face to black mail him. He later serves David with a restraining order to stay away from Jade on the pretense that he is dangerous to her safety. Jade goes to David's house to say goodbye, but David's father (Robert Patrick) denies Jade's request, in concern and protection for his sons well being.
5. Saved by the Fire
When Jade comes back for Christmas, David greets her at the airport, with the help of her mother. The love they have is still apparent and David vows to Jade that he isn't done fighting for her and that he has two tickets for them to fly to California. Jade agrees, but will only leave later that evening. The night turns to turmoil after an accidental fire brakes out while Jade's father is in the house. Soon they all realize that sometimes, true love is worth fighting for.
[youtube]https://www.youtube.com/watch?v=RKWlsnyYqfA[/youtube]
RADAR RATING: 100%