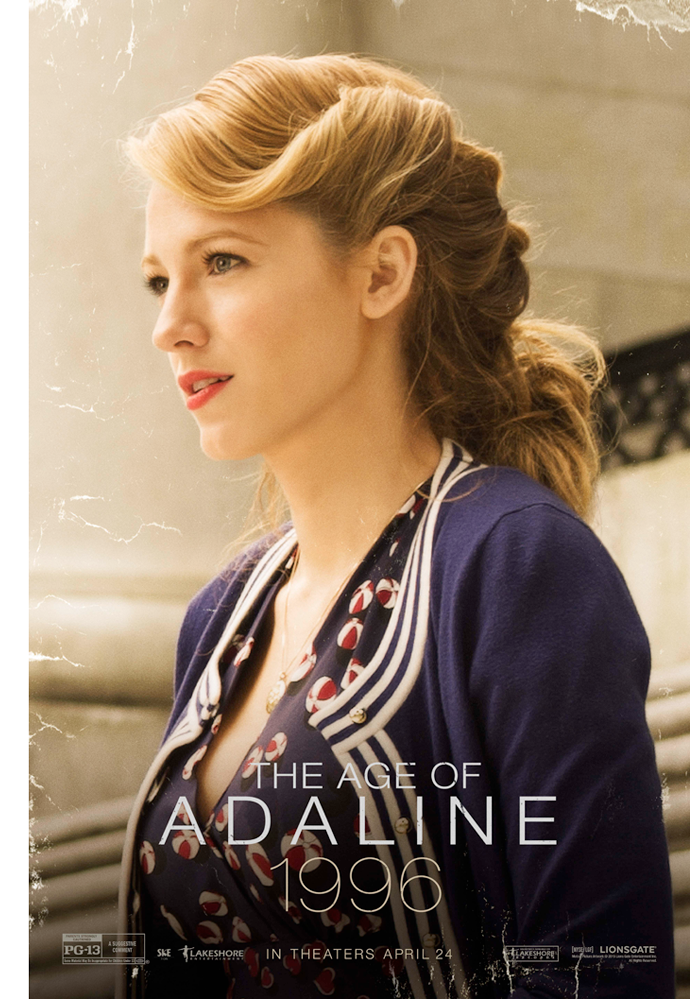 From Upper East Side teen queen Serena van der Woodsen in Gossip Girl to the elusively elegant Adaline Bowman in The Age of Adaline, Blakely Lively delivers Old Hollywood star power, with her timeless beauty and the help of a wardrobe that spans a century.
Adaline Bowman, born at the turn of the century, has a miraculous rebirth in the 1930s after surviving a car accident. A widow and the mother of a young girl, she is suspended in time and doesn't age beyond 29-years-old. What would seem like a dream come true for most women, is depicted as a curse for Adaline. She's on the run, continually changes her identity and reluctantly avoids the charms of beguiled men, so not to have her secret exposed.
It's a story we can easily fall in love with, reminiscent of romantic flicks from Nicholas Sparks such as "The Notebook," a love story that transcends time. She has to overcome the fact that she can't grow old with a man she loves, consequentially leaving heartbroken men in her wake. Then there's her daughter Flemming, who at the time of Adaline's accident was five and ages throughout the film until she matures to a senior citizen. Played impeccably well by 81-year-old veteran actress Ellen Burstyn, it's this relationship that reveals the true tragedy of living forever. It becomes painstakingly obvious to Adaline that although she has escaped the ravishes of time, those around her will not.
When it seems like there's no hope for happiness in eternal life, Adaline encounters charismatic philanthropist Ellis Jones (Michiel Huisman) at a New Year's Eve party. He is enchanted by her beauty and affable wit and is persistent with his advances, until she surrenders and let's him into her life, and heart. She soon discovers there is more to this encounter than she could have ever imagined, causing her to cross paths with a love from her past played by Harrison Ford.
But this film is filled with more than unrequited love and missed opportunities. What elevates this melodrama is the style of the love-deprived heroine, Adaline. Featuring designer brands such as Dior and Gucci, she wears a stellar wardrobe spanning ten decades.
"What appealed to me about 'Age of Adaline' was, it was quite an epic piece. A piece that had many characters and characters to develop. And to me costume is all about that – developing characters and telling a story," says Angus Strathie, the film's costume designer.
You can't help but love the aesthetics of this film. Set mostly in San Francisco (but filmed in Vancouver, Canada), the Golden Gate Bridge serves as a backdrop in many scenes and the styling of the wardrobe easily trumps just about any designer confection Lively or, even Leighton Meester (a.k.a. Blair Waldorf) wore in the "Gossip Girl" series.
From a turtleneck sweater and olive green coat from the Gucci Pre-Fall 2013 Collection (below) to a 50s-inspired silk navy dress with red and white beach balls from the Gucci Resort 2014 Collection (above), the looks are striking. One exceptional piece is a custom Gucci burgundy velvet gown that Adaline wore on New Years in the 1940s and again in 2015. She chicly incorporates vintage pieces into her contemporary look, giving her a refinement and radiance that pops off the screen. Definitely a must-see!
Image source: Lionsgate
RADAR RATING
Plot -

88%

Engagement -

92%

Style -

100%