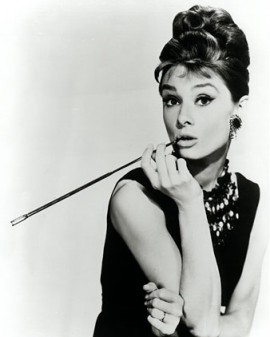 Global — During the holidays it's a tradition in my family to watch old movies. With all my sartorial sleuthing I needed a little down time, so I decided to check out an oldie but goody. I found solace in the Hollywood classic, Breakfast at Tiffany's, starring the iconic Audrey Hepburn as Holly Golightly.
It's amazing how I've probably seen this film a million times and never realized that our beloved Holly Golightly was a 'working girl'. How could I miss it? The signs are blaringly clear; small town girl moves to the big city, parties late into the night with her posh friends, wears designer garb (yet she has no visible job), and makes visits to her mobster 'friend' who, shall we say, is on an extended vacay "Upstate."
Am I a little dense or naive? Or maybe it's the writers who opted for subtly back in the day. My head could not wrap itself around the idea of the graceful actress — who captivated us as the sweet Sabrina, the regal Princess Ann, and the quirky Eliza Doolittle — in such a role. But, maybe it was how the actress tackled the role.
Perhaps Hepburn, in all her elegance and refinement, was able to portray the character with such grace that I didn't focus on what was right before me on the screen. After all, her co-star George Peppard, who played the well-styled and cool-mannered 'Fred', was a "kept" man in the film and that was made quite apparent.
In hindsight, Hepburn is known for having panache, so it's no surprise that even in a role that may be reproachable for some, she could do with class. Love you Audrey!
(Photo credits: vibrantchef.blogspot.com and grittyblues.com)
Chicly Yours,
The Chic Spy