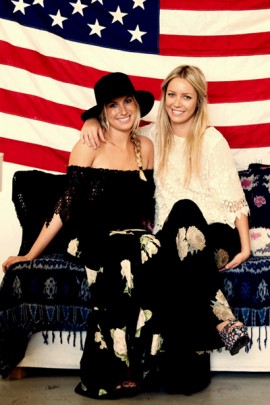 Cydney Morris and Dallas Wand of Stone Cold Fox
"Very laid back, short, flowy, delicate and very vintage. Effortless style." ~ Stone Cold Fox
Costa Mesa — Ever so often you come across a designer that creates fashions that have the power to transport you to the past, whether it's the corseted look of the victorian period or the flapper look of the prohibition era.
While scouring the web for fashion-forward designers, I discovered two, Cyndey Morris and Dallas Wand who create vintage-inspired designs under the label Stone Cold Fox. With monikers like Lovely Days, Lady Botanica, Gypsy Decay, and Foreign Cinema the collections include dresses, shorts, accessories, even home décor.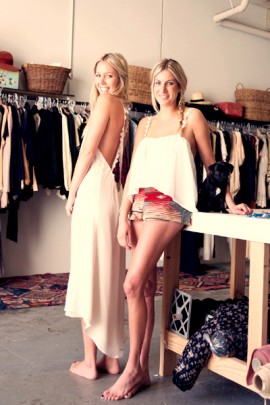 Dallas and Cydney wearing pieces from their collections.
Fashioned from sand-washed silks, burnout velvets, and delicate laces, one look at the retro 60's and 70's designs and you are instantly transplanted back to a time when Andy Warhol muse and style icon Edie Sedgwick was the "it" girl and the pop culture scene was all abuzz about peace and love.
[slideshow exclude="8,9″]
I recently caught up with Cyndey, the designer and Dallas, the marketer for an e-interview to discuss their collection and share a few of their Boho chic tips with us … here's what they had to say:
The Chic Spy: What has been the most challenging aspect to building your brand?
Stone Cold Fox: The most challenging part has been running our business without investors or backers. We have so much going on and our own accounting on top of it. Its also challenging to see other brands coping our designs because we have worked so hard to be where we are.
TCS: How would you describe the style of your collections?
SCF: Very laid back, short, flowy, delicate and very vintage. Effortless style.
TCS: What is your favorite piece from all the collections you have designed and why?
SCF: Probably the Birkin gown; it is something I [Cyndey] did in college and it is just such a beautiful gown with immaculate detail. We also really love the Bonita dress, because you can wear it to the beach or a fancy cocktail party. It's the best go-to dress.
TCS: What song comes to mind when you think of Stone Cold Fox?
SCF: "It girl" by The Brian Jonestown Massacre
TCS: How would you describe each other in three words?
Dallas about Cydney: Sarcastic, shy, and creative.
Cydney about Dallas: Entertaining, loyal, and warm.
TCS: If you could dress any famous person past or present, who would it be?
SCF: Kate Bosworth, Brigitte Bardot, or Jane Birkin.
TCS: Where would you like to see stone cold fox in five years?
SCF: We would really like it to be a well known name, expanding on our home wares and clothing collections, but staying within our niche. We really want to play with more specialty fabrics and sillouettes.
TCS: If you weren't designers, what would you be doing?
Cydney: A home decorator.
Dallas: Own my own store.
TCS: If you were a chic spy, what would be your code name?
SCF: Harriot the fox.
Stone Cold Fox shares 5 tips to being Boho chic:
Must own a piece Stone Cold Fox.
Be barefoot.
Don't have a "hairstyle."
Travel as much as you can. ( Cydney and Dallas have traveled to Bali, Australia, and Mexico)
Love flea markets.
(Photos courtesy of Stone Cold Fox)
Chicly Yours,
The Chic Spy