Fierce fashion and charmingly witty
The latest book to film adaption, "The Dressmaker" hits the big screen starring Kate Winslet as a talented dressmaker from a small town in Australia. The novel, from Australian author Rosalie Ham, is a tale of revenge and acceptance.
It's funny, witty, riveting, and fashionable too. A beguiling sort of film that I haven't seen from Hollywood in a while.
Plot: Myrtle "Tilly" Dunnage (Kate Winslet) returns to her small hometown in rural Australia. She was banished form the town as a young girl (Darcey Wilson) after the death of a young boy. She returns many years later as a glamorous woman, who designs beautiful dresses. She has her sewing machine in tow and uses her dressmaking skills to transform local women and uncover what really happened when she was sent away.
Engagement: This dramatic film should actually be called a dramedy for the witty humor and sarcastic banter. Set in a small rural town in 1950's Australia, the cast of characters each have their own comical backstory, from Tilly's mother Molly Dunnage (Judy Davis), who is a cantankerous drunk to the town police Sergeant Farrat (Hugo Weaving), who is a closeted crossdresser. The chemistry between Tilly and her mother Molly is perfectly in sync and it's easy to draw similarities with your own mother/daughter relationship, without the extra drama, of course. Tilly's need for acceptance from her mother and Molly's difficulty in sharing her true feelings is a consistent theme throughout the film.
The common bond that Tilly and Molly share is their talent for dressmaking, which is something Tilly learned from her mother. But this is where I believe the storyline falls short, in relaying how a love for fashion and dressmaking was instilled in Tilly as a young girl. An engaging element of the film is the looming scandal that resulted in Tilly's strained relationship with her mother and the town's people, except for Teddy McSwiney (Liam Hemsworth), who falls for Tilly. Tilly's relationship with Teddy adds a light to the film when the theme takes a dark turn. It also sets Tilly on a course that brings her to terms with her past.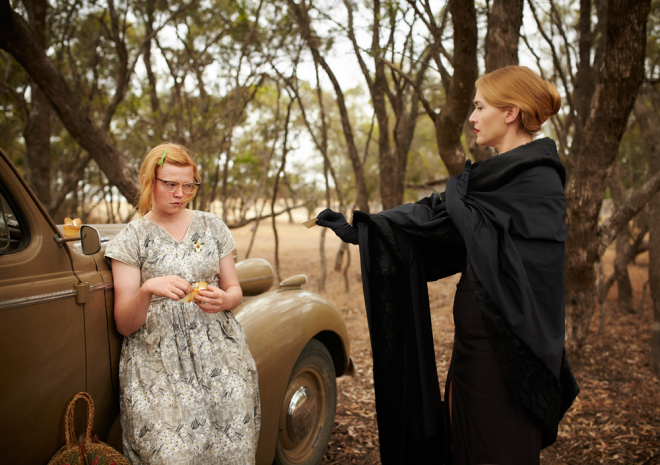 Style: Costume designer Margot Wilson created amazing looks for the film, reminiscent of films such as "The Devil Wears Prada" (2006) and "The Great Gatsby" (1974), where the fashion helps tell the story. This film is filled with stunning before and after looks that take the characters from drab to glamorous in the blink of an eye. One of the lines in the beginning of the film referencing a look resembling a Dior design. This speaks to the beauty of the film's costume designs.
Release date: September 23rd
Image source: Broad Green Pictures
RADAR RATING
Plot -

8.75/10

Engagement -

9/10

Style -

9.5/10