Coming-of-age Dramedy that's a lesson in self-confidence for all ages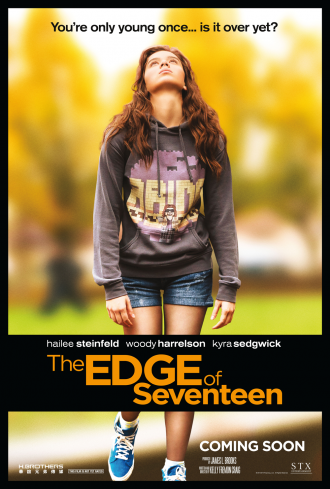 In "The Edge of Seventeen" Nadine (Hailee Steinfeld) is coping with being the outsider at home, in middle school and later in high school. While a littler girl, she found it difficult to make friends until she meets Krista (Haley Lu Richardson), who quickly becomes her BFF after they bond over a caterpillar. But when the girls are in high school, their friendship is put to the test as Nadine copes with stereotypical teen angst, awkwardness, and unpopularity.
Plot: Nadine is having some teenage hardships. After an unexpected accident, Nadine feels more like an outsider as she deals with a dysfunctional relationship with her mother Mona (Kyra Sedgwick) and envying her perfectly popular big brother. One consistent element in her life is her friendship with Krsita, but when that relationship is fractured, Nadine becomes depressed, and frankly, overdramatic, which she is reminded of by her cynical teacher Mr. Bruner (Woody Harrelson).
Engagement: What keeps this film engaging are the character relationships that Nadine has with the people in her life. Since a young girl, she has always been at battle with her mother and only her dad could sooth things over and calm her down. She views her brother as the enemy and part of the popular crowd at school that excludes her. Her best friend Krista is the one person she believes understands her, until she meets Erwin (Hayden Szeto), who is obviously into her, but she is so infatuated with bad boy Nick Mossman (Alexander Calvert), that she doesn't have a clue.
Her teacher Mr. Bruner is a last resort of sorts, as she reaches out to him for attention when she feels she can not relate or connect with anyone else in her life. Harrelson is hilarious as the unconcerned teacher, who refuses to cater to Nadine's teenage adolescence. She meets her match with him. He doesn't buckle under to her tantrums like her mother. He doesn't ignore her snarky remarks like her brother, and he doesn't indulge her feelings like her friend Krista. But although it seems like Nadine is the one with all the issues, those closest to her soon discover that they have unresolved issues of their own, and it become's a hilarious journey to discovery for them all .
Style: the style in the film is simple and in line with what you would expect for the storyline. A working middle class family and an All-American high school. The focus is more on the story and its characters and aesthetics are merely a support to sufficiently set the scene.
Release date: Friday, November 18th
RADAR RATING
Plot -

8.5/10

Engagement -

8.75/10

Style -

8/10