Each season we eagerly anticipate the newest looks that will grace the runway in fashion capitals from New York to Paris, when designers regale us with their latest collections. While professional shutterbugs capture the scene with their SLRs and style bloggers snap pics with their smartphones, world renown fashion journalist and illustrator Gladys Perint Palmer – who's also the executive director of fashion at the Academy of Art University – commemorates the moment with whimsical illustrations.
On June 1st, Ms. Palmer's second book Adam & Yves hits the shelves filled with her illustrations, which are unmistakeable for their witty perspective and satirical nature. Her work as an illustrator and writer have garnered a following and are highly sought after from fashion insiders; running the gamut from designers such as Oscar de la Renta and Chanel to publications such as Vogue and The New Yorker. Her illustrations were even featured as part of promotional materials during Mercedes-Benz Fashion Week Fall 2011 at Lincoln Center.
I recently caught up with Ms. Palmer for a Q&A about her latest book, fashion, and her inspiration as an artist.
"I relish the absurd and tell the truth. I love to puncture pretension." ~ Gladys Perint Palmer
What ignited your interest in fashion and art?
At the age of four I realized I could be the center of attention when I was drawing. Especially in public places. So I drew on trains, in parks, at parties. Later at school admiration turned to admonition: "Gladys Perint, stop scribbling!"
Below are illustrations from Ms. Palmer (not featured in Adam & Yves):
Your mother Marthe Perint was also an artist. How did her work inspire you?
I used to climb into her lap and she would tell me a story and draw. She was very pretty, inventive and loved fashion.
Your illustrations not only tell a story, but they often capture a memorable moment. What is your intention when creating a piece of artwork?
I just draw without too much planning and on a good day inspiration flows like an energy. When it doesn't flow, my rubbish flows over.
There's a sophisticated satire to your illustrations. How would you describe your style?
I relish the absurd and tell the truth. I love to puncture pretension.
What motivates you to choose a specific subject when at a fashion show?
Sometimes the colour, sometimes the shape, sometimes an utterly ridiculous detail.
You've illustrated myriad famous faces from Janet Jackson and the Olsen twins to Karl Lagerfeld and Zac Posen. Which celebrity depiction is your favorite?
Nefertiti morphing into Barbra Streisand – they share a profile.
If you could have someone sit for an illustration session with you past or present, who would it be?
The six wives of Henry VIII. Divorced, beheaded, died. Divorced, beheaded, survived.
Where do you like to work?
In my studio with natural light, and a lightbox.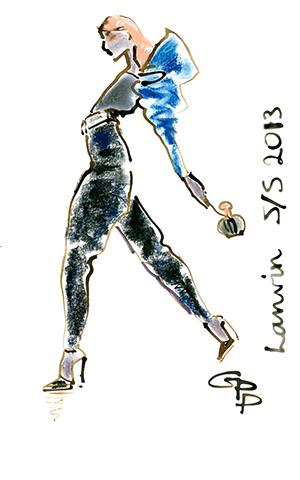 Your first book, "Fashion People" is a vivid highlight of fashion insiders and influencers. How does your new book, "Adam & Yves" differ?
The focus is more on fashion than people, but there is plenty of historical/hysterical human references.
Why the title "Adam & Yves?"
From Adam (and Eve) to Yves (Saint Laurent)
What is the theme of the book?
"Adam & Yves" is a tongue-in-cheek history of fashion. Ridiculous and sublime items are in chronological order, combined with modern drawings that relate.
What would you like readers to take away from the book?
To be informed and highly amused.
What materials do use to create your sketches?
Ink, markets, gouache, pastels – just about everything that Sennelier in Paris sells. Also cosmetics: lipstick, rouge, nail polish, etc.
Any advice for aspiring fashion illustrators?
Draw, draw and draw. Learn the rules. Then break the rules. And persist!
Courtesy of Ms. Palmer and Fire Fall Media, one lucky reader will win a signed copy of the book! Details coming soon on Twitter @TheChicSpy and on my Facebook page. Stay tuned! THIS GIVEAWAY HAS ENDED