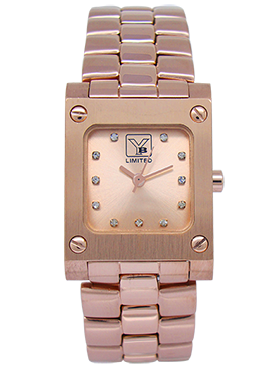 SAN FRANCISCO — I have to admit, the watch is my all time favorite go to accessory, so I was excited to be introduced to YB Limited, who designs watches and accessories for men and women. Founded in 2004 by creative director Patrick Martin, the face of the brand is actor Hill Harper who stars in "CSI:NY." I recently caught up with Martin to discuss YB Limited and get the scoop on his inspiration for the brand he describes as "sophisticated, sporty, and fashionable."
What does YB stand for?
YB is to say Why Be. It represents the freedom of expression. We use the phrase, "YB Limited?" This is to ask, "Why Limit Yourself?" Our vision is to provide high quality and unique fashion accessories and apparel at accessible price points.
What inspires your designs?
I think about the person who has to wake up and go to work everyday. This person wants something that's fashionable and sporty, yet appropriate for business. I also think about global influences and inspiration from things around the world. We seek to collaborate with various independent designers to gauge diverse perspectives of creativity.
What sets YB Limited apart from other brands?
I think its attitude of being limitless and not setting boundaries on what we do. For example, our vision of collaborating with various designers, introducing unique product designs and creating a unique customer experience is what we want to do with this brand. Together, I believe these elements will set us apart from other brands.
Describe the YB woman and man.
The YB Woman is sophisticated, business savvy, confident and independent. The YB Man is sporty, stylish, driven and confident.
Tell me more about your brand's motto "Think Act Be."
This originated from Hill Harper. When we shot the commercial with him, he added this to his script on the set which is one of his favorite sayings. It can be interpreted a number of ways, however I like to think about it as the core parts of what's required to go after your vision.
Can you give us an accessory tip?
Buy what you like and don't feel like you have to follow the crowd. An accessory should be an individual expression of who you are and not what others are, so take some risks. Don't be afraid to be different and stand out from the crowd.
For more information on YB Limited, visit shopyb.com.
[youtube]https://www.youtube.com/watch?v=OrhBHu1ziPA[/youtube]
Chicly Yours,
The Chic Spy
(Image credit: YB Limited Orlando rose gold watch)