From the fairest to darkest shades in foundation, concealer, and more
With skin tones ranging from a pale alabaster to a deep mahogany, brands are starting to readily offer makeup shades that will appeal to the entire spectrum, from light to dark. In celebration of the fairest and darkest shades, here's a round up of beauty products–from concealer to foundation.
Foundation
As anyone with very pale or dark skin can attest, finding the right foundation–that is an exact match to your skin tone–can be an arduous task. For fair skinned makeup wearers that means encountering foundation that is too dark and mask-like. For darker skinned wearers this means a too light foundation, resulting in an ashy look.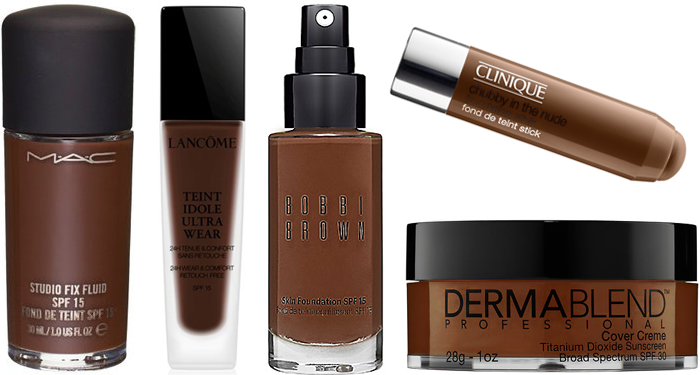 Studio Fix Fluid Foundation in NW10 and NW58 | Teint Idole Ultra Wear Foundation 090 Ivoire N or 560 Suede C | Bobbi Brown Foundation in Alabaster or Espresso | Clinique Chubby in the Nude Foundation in Abundant Alabaster and Curviest Clove | DermaBlend Cover Creme in Pale Ivory and Deep Brown
Concealer
From time to time, dark circles or unsightly blemishes can plague our complexion. A concealer is the ideal companion to combat these imperfections and make our face look flawless. Selecting just the right shade of concealer can give a radiant appearance. For fair and dark skin, avoid too light shades or you might look like a raccoon. One shader lighter should work well.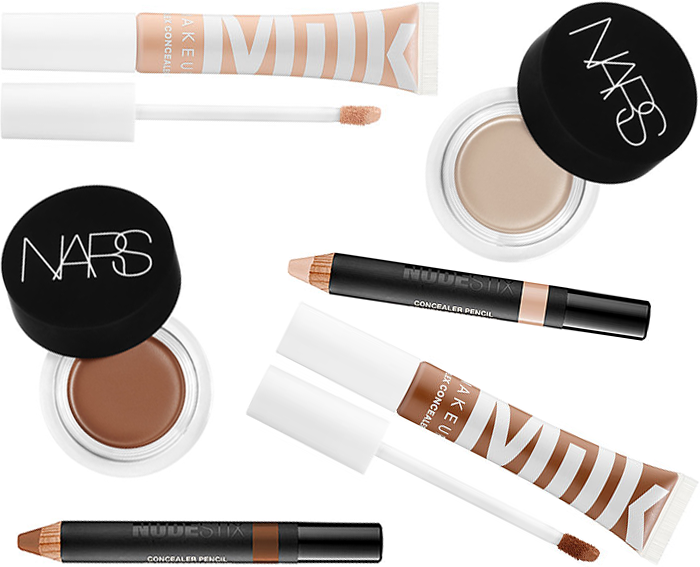 Milk Makeup Flex Concealer in Fair and Deep | Nars Soft Matte Complete Concealer in Chantilly and Cacao | Nudestix Concealer Pencil in Light 1 and Deep 8
Powder

Powder can be a miracle worker. Worn with foundation it provides a fuller coverage. Worn solo, it will give a more natural appearance. These days, brands offer what they call universal translucent powders. But deep dark skin tones might find these powders leave an ashy appearance. The best option is to choose a powder in one's natural shade. Select a shade lighter when worn with foundation, because the moisture in the foundation can darken the powder.

Laura Mercier Candleglow Sheer Perfecting Powder in Fair and Deep | Black Up Anti Shine Loose Powder in NPLI 0 and NPLI 4/5 | Bobbi Brown Nude Finish Illuminating Setting Powder in Bare and Rich
Blush and Lip Color
Cheek color should be soft for a natural look. That means selecting cheek hues that are sheer, and in earthy tones such as taupe and mauve. When it comes to lips, regardless of how light or dark your skin tone, almost any shade of lipstick can be worn. But if the beauty look you seek is more natural–a.k.a. the no makeup, makeup look–you should opt for a lip color that will appear nude with a hint of color. For versatility, a combo cheek and lip palette is the way to go.
Stila Convertible Color Dual Lip & Cheek Palette in Sunrise Splendor