Fit is really one of the most important aspects of personal style. You've got to wear what fits well and flatters your shape, not what's trendy or hanging from every rack.
San Francisco — Lorraine Sanders, founder and editor of SF Indie Fashion, is among the Who's Who of Bay Area journalists. For six years, she has regaled her readers with the latest news on Bay Area fashion. She was inspired to launch her fashion-forward blog because of a growth of interest in local independent fashion. There was no outlet for fashion enthusiasts to find information on emerging designers and new boutiques in the area, so with no formal knowledge on the fashion industry, Lorraine set out to give readers what they craved.
She has since become an expert on the topic, writing for leading publications including the San Francisco Chronicle, 7X7 magazine, and Refinery29 and covering a range of fashion from indie to mainstream. Now she has launched a new site called Digital Style Digest, which focuses on the mergence of fashion with technology.
I recently caught up with the savvy writer to discuss her latest venture and get the scoop on her favorite fashion meets tech emergences. Here's what she had to say:
TCS: With the success of SF Indie Fashion, what motivated you to launch Digital Style Digest?
LS: That's a good question and one I get asked often. In fact, I've wondered to myself about the wisdom of starting a completely new site many times over the last several months, I can't even tell you. Most importantly, I've been able to cover more and more stories related to fashion and technology over the last year, largely because of the explosion of activity we're currently seeing in the space.
Early last fall, I was able to start writing a column on fashion and technology called Style Bytes for the San Francisco Chronicle. Both of those factors have made the fashion tech space loom large in my life, and I have discovered that I am just as enthusiastic about the area as I was (and still am) about independent fashion. The creativity and entrepreneurial spirit that drew me to the independent fashion space is also in the fashion tech space.
TCS: What do you want to achieve with your new site?
LS: I want Digital Style Digest to inform and entertain, first and foremost. Second, I'd like it to provide a middle ground between hardcore tech biz publications and those intended primarily for a fashion audience. There are plenty of people like me who want to know about the latest funded fashion startup in Silicon Valley, but also want to look at a seriously gorgeous iPad case – all on the same page.
TCS: What product(s) or technological development(s) in the past decade do you believe have been most impactful to the fashion industry?
LS: This may sound generic, but probably the iPhone and the easy access to social media it offers. I'm biased, of course, because I use an iPhone. But when I think about the sum total effect things like Twitter, Facebook, Instagram, Pinterest and about a bajillion fashion apps have had on the fashion industry, both in how it communicates within itself and how it sells to customers, it's completely dizzying. And the iPhone allows all of those things to happen on the fly, front row at Fashion Week or anywhere in the world. And yes, of course, many great tools and apps are also available on Android, but they tend to drop iOS versions first and many are still only available to iPhone users.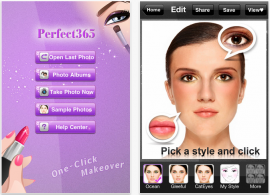 TCS: What are your top 3 favorite style apps?
LS: There are so, so many, so I'll just tell you what I'm currently enjoying messing around with this week: Perfect365 and Poshmark. Also, it's not live yet, but I am really excited to see what's coming from StyleYou, due in San Francisco later this year.
TCS: As a blogger, what gadget do you find hard to live without?
LS: My iPhone of course. I use it to take pictures, record interviews, use social media, watch videos, everything. But also my external hard drive. I'm constantly moving from computer to computer, and I've got to have my files with me at all times.
TCS: Can you give readers one style and one tech tip for being chic?
LS: I think fit is really one of the most important aspects of personal style. You've got to wear what fits well and flatters your shape, not what's trendy or hanging from every rack. As for a tech tip for being chic, I'm not sure I should be doling out that kind of advice! I'm a mom, and I'm constantly working, so sometimes the chic factor suffers a little bit. One thing I think is exciting to see more of these days is personal style by Skype. I recently learned about a San Francisco company, Tog + Porter, that incorporates this into their business, and, though I haven't used them personally yet, I love the idea of being able to use technology to get real-time, immediate, personalized styling advice.
TCS: What's playing on your MP3 player?
LS: My MP3 selection on the phone hasn't been updated in eons. But it's a really random mix currently starring Portishead, Mos Def, Preservation Hall Jazz Band, Wu Tang Clan, 2Pac and Charlotte Gainsbourg.
TCS: Share one detail about your style habits that your readers don't know or would be shocked if they did.
LS: Shocked? I wish I had some dark, juicy style habit to share with you, like I eat soap in my closet late at night or something. I am currently hoarding a bottle of Dolce & Gabbana "By" perfume that I bought off eBay after they discontinued the scent. I'm currently trying to figure out how to make it last, well, the rest of my life. It's my favorite, and they no longer make it. I've also been known to glue falling-apart shoes I love back together.
TCS: If you were a Chic Spy Agent, what would be your code name?
LS: Colonel Sanders. Or wait, that's not really a code name is it, if it has my last name? But yeah, you could just call me the Colonel. That said, I'm no chicken.