[thethe-image-slider name="Gerardo Larrea"]
LIMA – Vibrant colors, quirky characters, and whimsical scenes describe the runway-inspired illustrations from Peruvian artist Gerardo Larrea. A graphic designer and fashion editor, Larrea started creating his fanciful fashion illustrations in 2011 as a way to express himself and show his point of view. His illustrations have been featured in magazines, commissioned by companies, and used as part of Lima Fashion Week.
It's no wonder his works have found favor on the fashion scene, many of his illustrations pay homage to fashion designers such as Marc Jacobs and Alexander McQueen. "I love to represent the trends, colors and silhouettes through my illustrations," he explains. Some of his runway faves include Proenza Schouler, Prada, Stella McCartney, N21 by Alessandro del Acqua, Rodarte, Balenciaga, and Balmain.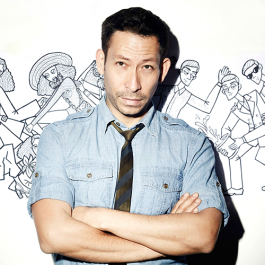 Gerardo Larrea poses in front of his illustrations.
I recently caught up with Larrea to get the scoop on his artistic inspiration, creative process, and personal style.
Are you inspired by other artists?
Sure, general art always inspires me. I love classical and modern art. I think it's very important to get inspired by different points of view. I also admire many current illustrators; they are an inspiration and reference point for me such as Richard Haines, whom I had the pleasure of interviewing in New York for a local magazine. Also, Danny Roberts, Ruben Toledo, Jordi Lavanda, and Darcel.
What is the atmosphere like when you create your illustrations?
The ideal for me is to illustrate very early or very late in my studio listening to jazz. I love jazz music, it relaxes and inspires me, but at other times I like other genres of music. Sometimes I cannot control time, so I illustrate at any time of the day – It can be in a coffee shop, my parents home or in a photo studio. I always carry my sketchbook and materials to take advantage of any time of the day.
What materials do you use?
My type of illustration is a mixed media and materials ranging from a sharp pencil, paper, erasers, markers of different thickness and I add the color digitally, so my laptop is essential too.
Your illustrations have great style. How would you describe your style?
Thank you! My style is super graphic, stylized, and I love playing with color. I also like that the characters interact and have a touch of sarcasm.
What's playing on your playlist when you are illustrating?
Etta James, Nat King Cole, Ella Fitzgerald, Billie Holiday, Norah Jones, Joss Stone, Adele, Amy Winehouse and always any of the Spice Girls songs (a group song and also their solo careers, as they are my favorite band). They always give me a lot of energy.
If you were a Chic Spy Agent, what would be your code name?
I would love a name like G73 AGENT.
To see more of Gerardo Larrea's illustrations, visit theillustratorfiles.blogspot.com. To purchase illustrations or tech cases (iphone, ipad and ipods), visit society6.com/gerardolarrea.
Chicly Yours,
The Chic Spy
(Images courtesy of Gerardo Larrea)