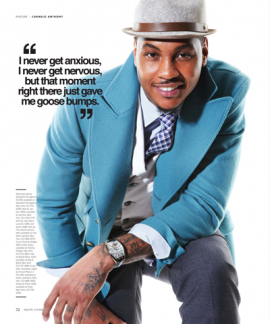 New York Knicks forward Carmelo Anthony in Haute Magazine
East Coast — From sitting front-row center of designer runway shows to conceptualizing fashion spreads in major magazines, the life of the celebrity stylist is a dream come true. They make us desire the looks they create and envy the famous celebs who sport them. Khalilah Wiliams-Webb is one such stylist. She works with athletes and musicians (primarily men), including New York Knicks basketball player Carmelo Anthony and recording artist Kasseem Dean, known as Swizz Beatz. Recently, I caught up with her for an exclusive e-interview to talk about the biz of styling and fashioning the modern man.
The Chic Spy: What motivated you to become a stylist?
Khalilah Williams-Webb: My mom and grandma's love for shopping, which quickly turned into my love of clothing and the desire to put on outfits that were eye catching and made people double take. I knew I wanted to do a job that was really hands on and involved clothing, so I thought to myself, there has to be some kind of career that merged these two. While reading up on careers, colleges, and moving to NYC, styling was the one that intrigued me the most and my pursuit began.
TCS: Which celebrities have you styled?
KWW: Lloyd, Swizz Beatz, Ja Rule, Mya, La La and Carmelo Aanthony, Kevin Liles, Yung Joc, and Gorilla Zoe.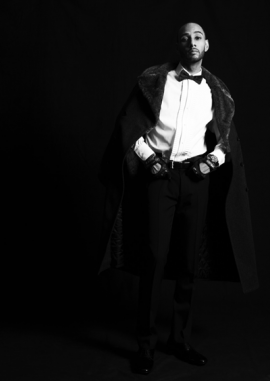 Record Producer Swizz Beatz
TCS: You travel with clients to fashion shows like Carmelo Anthony to the House of Versace show during Milan Fashion Week last year. What has been your most exciting assignment?
KWW: I think that one was the most exciting, it was an opportunity that was priceless. It's one of those times that feels surreal, and it all happened so fast that it still doesn't feel like I was there!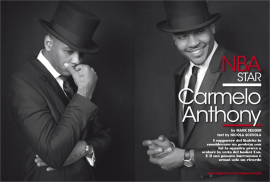 Carmelo Anthony in Vogue Italy
TCS: Do you style both men and women? How do you believe styling men differs from styling women?
KWW: Yes, I style both men and women. Styling for men is a lot less complicated. Men have a handful of silhouettes to choose from and their body types don't drastically change. The biggest hurdle is to get a male client properly sized and to get them to try on clothing. They absolutely hate it! For women, there are several different components to consider beginning with body type and skin tone, moving to proper undergarments and accessories, and lastly making sure hair and makeup coincides with the look.
TCS: If you could work with any celebrity past or present, who would it be?
KWW: Nick Canon, 50 Cent, or Derrick Rose. I want to work with clients where I see a need for my services, develop their look and take them to the next level in style.
TCS: What trends do you see being popular in 2012?
KWW: Vintage dressing and color blocking.
TCS: How would you describe your style?
KWW: Funky fresh, fun, and eclectic. I love looking like it took five minutes to put a look together because I threw on the first piece I saw when I opened my closet. But trust me it doesn't.
TCS: What's playing on your mp3 player?
KWW: Ericka Badu, Jay-Z Unplugged, Kanye West Everything, and of course Miss Whitney.
Khalilah Williams-Webb offers five tips for being fashion-forward:
1. Be you.
2. Feel comfortable.
3. Don't overdo it.
4. Don't underdo it.
5. Pick a trend that's right for you, don't do them all at once.
Chicly Yours,
The Chic Spy
(Images courtesy of Khalilah Williams-Webb)