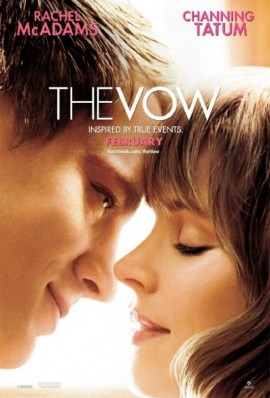 What if the love of your life woke up one day and didn't remember you? That is the question that has perplexed my mind since I knew I would be screening the romantic drama The Vow. It's not the Valentine's Day movie you would expect. The plot isn't one concocted by Hollywood (well, not fully) but rather inspired by true events.
The film chronicles the courtship and marriage of a young couple whose relationship is up against what seems to be an unsurmountable challenge, amnesia. On a snowy night, Paige (Rachel McAdams) and her husband Leo (Channing Tatum) are involved in a near fatal car accident. Paige suffers a severe brain injury and when she awakens from a drug-induced sleep, she is unable to remember the life she shared with her husband of four years. The only memories she has are of a past life that she had once chosen to leave behind for a new one.
What makes this movie so likeable – besides Tatum's charming good looks and McAdams sweet girl next door demeanor – is the fact it isn't the predictable chick flick that usually gets served up to us this time of year. It's honest, heartwarming, and I couldn't help but do a little soul searching afterwards. Cliché I know, but true. Just imagine being catapult into a death-defying circumstance and to top it off, have the love of your life survive the incident, only to lose them to their lost memories.
I went to watch the movie with a BFF who isn't an easy crier like moi, but a few glances in her direction during the movie, and I noticed that she couldn't hold back her emotions either. I guess the next question is; who wants to see a tear jerker during what's suppose to be the month of love? I simply say, in the clearest most uncomplicated terms, the message this film delivers is poignant, at least for me. In a Hollywood, fairytale sort of way, we are reminded of what true love means and what it can endure, if given a chance.
Give love a chance, now that's a novel idea.
Chicly Yours,
The Chic Spy
(Image courtesy of Screen Gems)