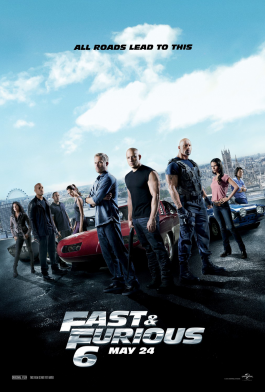 PLOT: The hottest speed-racing crew is back on the track, this time in London for Fast & Furious 6. Dom (Vin Diesel), Brian (Paul Walker), and their crew – even a guy from "The Fast and the Furious: Tokyo Drift" (2006) – come out of hiding for another road mission; to stop a violently skilled mercenary driver, who along with his team of crafty bandits seem to effortlessly outwit the law, heist after heist.
When we last saw them, they were in Rio, where they scored a cool 100 million in cash when they took down a Brazilian drug lord. So it's no surprise they've opted for early retirement to kick back and soak up the island sun. Then along comes a muscle bound agent (Dwayne Johnson) to Dom's hide away. After showing him a recent picture of Letty (Michelle Rodriguez), who was presumed dead, the agent persuades him to help nab the rogue rider. To sweeten the deal, Dom is also promised full pardons for everyone if the mission is accomplished. As you've guessed, it's not going to be so easy.
ENGAGEMENT: As expected, there's non-stop action, from fast cars zipping through darkened London streets and colosal explosions that topple bridges to big fight scenes that have the ladies kick-boxing like pros. Some stunts were so extreme they were too outlandish to be believable, but they sure were entertaining to watch. With all the high-impact action, it didn't top the nice little 'Easter egg' at the end of the movie. But don't expect me to give away any major spoilers, you'll just have to go check out the film. It's well-worth the trip!
STYLE: The chic tempo in this film is laid back and casual, just what you'd expect from "The Fast and the Furious" franchise – they save the glitz for the hot rods. Although we're use to flashy candy-colored race cars, this edition goes a bit G.I. Joe with the addition of a jumbo military freight plane, army tank, and scrappy speedsters that look like they were on loan from "Death Race" (2008).
Release: Friday, May 24th
This should be 75% on your radar:

Chicly Yours,
The Chic Spy