Global — Mirror mirror on the wall, who's the fairest of them all? Considering there were two Snow White themed films this year, that phrase is quite befitting. But where "Mirror Mirror" starring Julia Roberts (Pretty Woman) as the wicked queen and Lily Collins (The Blind Side) as the beautiful beguiling Snow White was a vibrant and colorful retelling of the fairytale, Snow White and the Huntsman starring Charlize Theron (Monster) as the evil queen, Kristen Stewart (Twilight) as Snow White, and Chris Hemsworthy (The Avengers) as the Huntsman, was a more dark depiction.
Kristen Stewart as Snow White (above) and shot of castle from the film (below).
The realistic woodsy setting and stoney castle served as a gloomy backdrop to a gothic version of "Snow White and the Seven Dwarfs." Theron was amazing as the evil stepmother with an icy demeanor that could make the the devil who wore Prada cringe. Chris Hemsworthy was also impressive in his role as the brooding huntsman. In other films such as "Thor" and "The Avengers," his character seemed a bit aloof, but in this film there was more depth, which makes me excited to watch him in more character developed roles.
Chris Hemsworthy as the Huntsman (above) and Kristen Stewart as Snow White (below).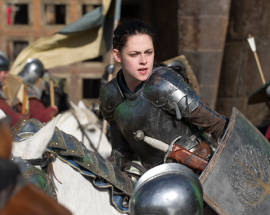 As for Kristen Stewart as Snow White, I am a bit ambivalent. I have become so accustomed to watching her as the love lorn Bella from the "Twilight" saga, that it was almost difficult to separate her from that character and accept her in this new one. However, it was a nice surprise to see her in a role where her characeter exhibits more independence and strength.
Charlize Theron as the Evil Queen (above) and costume designer Colleen Atwood (below).
The ultimate allure to this film for me was the costuming courtesy of Oscar-winning designer Colleen Atwood, especially for Theron's character which seemed to have a life its own, literally. The costume changes seemed to change with the character's mood and status in the film, which became an interesting precursor to what was to come.
Overall, "Snow White and the Huntsman" is an entertaining film and worth a watch.
Chicly Yours,
The Chic Spy
(Images courtesy of Universal Studios)