Global — The caped crusader is back to battle evil in Gotham City once again in The Dark Knight Rises, with Christian Bale as Batman, and new foes Selina Kyle a.k.a Catwoman and Bane, a seriously psychotic menace. I wasn't sure what to expect in the last installment of the Batman trilogy from Christopher Nolan, but knew there were big shoes to fill for this action adventure flick. The previous movie "The Dark Knight" received rave reviews, partly due to the performance of the late Heath Ledger as the Joker.
But the big controversy in the wake of this film was the choice for Catwoman played by Anne Hathaway. I pondered whether she could tackle the role with all the tenacity and vigor that we expect from the feisty feline, and still come across as charming and beguiling, which she did. Besides delivering a decent Catwoman, the film offered a cornucopia of excitement from new super- charged weapons and high-velocity vehicles to pleasing plot twists and an climactic conclusion, eluding to the possible rise of a new dark knight.
Here are my favorite aspects of the film:

Anne Hathaway as Selina Kyle and her alter ego Catwoman was ultra fashionable. I love that not only was she a fierce feline she was chic too. Her retro tailored suit and driving gloves are highly stylized, while her Catwoman costume is sleek but comparable to that of Batman.


Christian Bale delivers his strongest performance as Bruce Wayne and Batman since the trilogy began. He appeared more fit and engaging in his role. There was also good chemistry with Hathaway.


Tom Hardy was stellar as Batman's nemesis Bane. His voice was menacing and his movements marauding. The acting was so well done, at times I was in sheer disbelief that it was Hardy.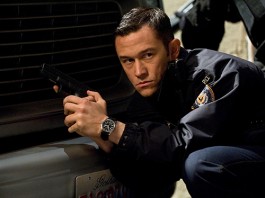 But my most faved point in the film (and I must say this is a major SPOILER) is discovering that young officer John Blake played by Joseph Gordon-Levitt was none other than Robin, the future sidekick to Batman. There are indications throughout the film, from Batman likening Catwoman to Robinhood to him telling Blake that if he wanted to be a hero he needs to wear a mask.
Chicly yours,
The Chic Spy
(Images courtesy of Warner Bros. Pictures)