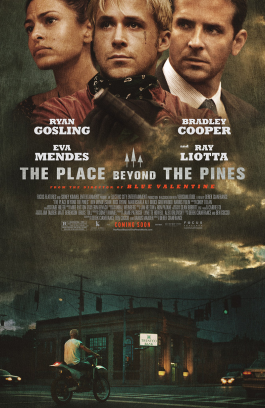 PLOT: Ryan Gosling stars as Luke, a motorcycle stunt rider who travels with a carnival in the crime drama, The Place Beyond the Pines. He's your typical 'cool hand Luke' laid back and carefree – as if not a care in the world. This all changes when Luke returns to a city where he's previously perfomed and is reunited with Romina (Eva Mendes), who unbeknownst to him, is the mother of his only child. When he learns of his new daddy status, he tries to do what he thinks is right. But, Romina has moved on and has a boyfriend she lives with who provides for her and her son Jason.
In an effort to make money so he can prove himself worthy and able to provide, Luke reluctantly joins forces with a local mechanic who robs banks in his spare time. Using his motorcycle stunt ability, Luke hits one bank after the other with a slick getaway routine that works, briefly. Luke's partner in crime soon realizes that Luke is losing control and decides to stop the robberies, but Luke decides to go at it alone. On his last robbery, which was handled carlessly, Luke makes a not-so-smooth getaway and is detected by rookie cop Avery (Bradley Cooper), which results in a fatal encounter.
ENGAGEMENT: The film starts out slow and has an indie look and feel. I'm usually not a fan of indies but love almost any film in which Gosling stars. The film picks up pace once Luke discovers he's fathered a son. I feel the chemistry between Gosling and Mendes is lacking, but it worked for the premise of the film. We easily see how mayhem will ensue; there's another man vying for Romina who obviously isn't fond of Luke and resents his medling.
Then there's Luke's new friend – a greasy, slimy mechanic who sets him on a course to desctruction. When tragedy occurs, I am stunned. It's not what I expected. The twist is shocking and intriguing at the same time. When the storyline jumps more than a decade into the future, it soon becomes evident that the plot doesn't revolve around Luke, but rather his son and the son of the rookie cop who pursued him. This is where the true story begins, as the lives of the two young men collide and the reality of who they are and how their lives intersect, occurs to them.
STYLE: Gosling's look in the film is total grunge. He is beefed up and tattoed, even on his face, with what looks like tear droplets. He sports a leather jacket, rides a motorcycle and looks like your typical biker. Not a role I could see him in, but one he plays well, similar to his role in "Drive." There is an edgy appeal to his character in this movie, which fits with the raw indie feel. Mendes character, who works as a waitress in a restaurent, has a simple unrefined appearance, which also fits, but Mendes in this role didn't feel authentic.
Release: Friday, April 5th
This should be 60% on your radar:

Chicly Yours,
The Chic Spy
(Image courtesy of Focus Features)