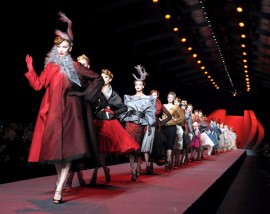 Paris — In the fashion world, John Galliano is often coined as flamboyant, eccentric, or a wild child. He's actually more of a visionary; a designer so talented and unique that his designs rarely need any explanation, often speaking for themselves. Galliano challenges his own creativity with every collection and whatever inspires him, translates literally on the runway.
Galliano helms one of the most well-known fashion houses in the world, Christian Dior, and religiously turns out collection after collection of runway stunners. True-to-form, his Haute Couture Spring Summer 2011 was a must see. With ateliers becoming a thing of the past, fashion enthusiasts should make a point to view the latest couture collections including Chanel, Givenchy, and Valentino.
Dior's show was extremely special with a tribute to Christian Dior illustrator, René Gruau. Working for Dior in the 40s and 50s, Gruau penned the iconic imagery the house is known for today. Wanting to show his admiration for the illustrator, Galliano took the illustrations he created and turned them into dramatic replicas of art. The effects of light and shade was used as Galliano put it, "in an illustrative way" and were meant to emulate Gruau's pencil strokes, eraser marks, smears, and washes.
It is impressive how Galliano took something that could normally be considered drab and make it a beautifully fluid masterpiece with lavish water colors and multiple layers of droopy material marked with ink splatters. Headpieces by Stephen Jones not only unified the look, but gave it a signature look of an artist whirling their pen to sign their work.
The collection featured silhouettes with nipped-in waists that extended to voluminous skirts, enveloped in layers of petticoats. Nostalgia for vintage Dior was felt in every piece and it was as if one was sitting next to Gruau himself watching the illustrations come to life and prance off his sketchbook. It was as if Galliano sent 32 portraits down the runway — his designs were too impeccable to be classified simply as looks.
(Image credits: bloglovin.com, fashionlvr.com, and rebeccablaydes.com)