LOS ANGELES — One of the most iconic garments in fashion history is the trench. It's cool, sleek, and alluring. When worn, it instantly elevates the wearer to an uber chic status. The trench has even landed starring roles in films such as "Breakfast at Tiffany's" and "Casablanca," garnering almost as much attention as it's famous wearer. So when I heard about a new line of trench-inspired designs from L'Cheriyve, with the clever moniker Trenchcapade, I had to know more.
L'Cheriyve is an online boutique founded by Yvette Poole to help women explore their sensuous and playful side with services such as boudoir photo shoots. How befitting that the Trenchcapade collection would be fashioned from luxury fabrics such as leather, wool gabardine, duchess satin, lace, stretch silk; and lined with silk charmeuse. They're so hot, I'm already putting them on my fall radar. I recently caught up with Yvette, who launched the brand in 2012, to get the scoop on her new collection.
What's the story behind the Trenchcapade name?
The name is a blended word combining trench coat and escapade. On Valentines Day weekend a few years back, my husband was returning from a business trip and I decided to surprise him at the airport, wearing my trench coat and nothing but lingerie underneath. He loved it and ever since we had referred to that Valentines Day evening, as the night of the Trenchcapade.
Why a trench?
A trench coat has always been an alluring and provocative garment that inspires a woman's playful and flirtatious nature, but before the Trenchcapade, trench coats have not embraced these essential feminine characteristics.
Is it a coat?
By definition, yes it is a coat, however a Trenchcapade is much more, and we consider it an adventure waiting to happen. The L'Cheriyve Trenchcapade was designed to be a sexy, joyful and inspiring outerwear accessory that can be worn anytime a woman wants to feel sexy yet sophisticated. I promise that you have never worn a coat like a Trenchcapade, and when women wear them they feel sexy, sophisticated, and inspired. When you wear a Trenchcapade you better be ready to have all eyes on you.
What sets your trench apart from other brands?
L'Cheriyve doesn't just sell trench coats; we sell Trenchcapades, which inspire women to engage in those adventurous experiences that they've always "dreamed" of having. They are meticulously hand crafted in Los Angeles and made from only the finest fabrics that are procured from around the world. As a result, we only produce a limited quantity of each Trenchcapade style, so once we run out of that fabric, that's it for that style.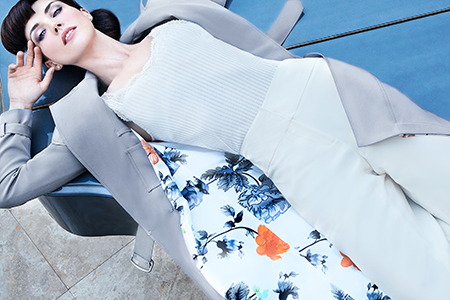 What inspired the design?
During our Valentines Day "Trenchcapade" I discovered that traditional trench coats were uncomfortable, unfeminine, boxy, and rough to the touch. No trench coat currently on the market made me feel sexy or excited to go and surprise my husband. So, this event was the inspiration for the Trenchcapade.
If you could design a Trenchcapade for any woman, who would it be and why?
Former First Lady, Jackie Kennedy, is the quintessential L'Cheriyve woman. Her endearing personality, sophistication, class and sex appeal are all qualities that are embodied in a woman who would wear a Trenchcapade. I can only imagine Jackie walking around with her iconic pillbox hat, big sunglasses, and pearls all matching her custom presidential Trenchcapade. To make a coat for her would have been a privilege beyond words.
For more information or to buy a Trenchcapade, visit lcheriyve.com.
Chicly Yours,
The Chic Spy
(Images courtesy of L'Cheriyve and Trenchcapades)