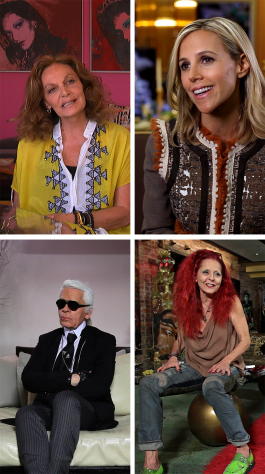 SAN FRANCISCO — Who would give up an opportunity to spend the day at Bergdorf Goodman's? But, if that is not an option, how about attending a screening of Scatter My Ashes At Bergdorf's a documentary featuring some of fashion's most notable designers and insiders? The event kicked off with festive fare at Cupola Pizzeria in Westfield Centre. It was a luxe spread of catered lamb balls, Neapolitan pizza, red wine and a delectable buffet of self-serve bonbons to savor.
While eagerly waited to watch the film and get a peak inside the legendary walls of the famed Manhattan retailer, we spotted a few famous faces such as Joy Bianchi, a local fashion icon and philanthropist. After mingling with guests and nibbling appetizers, we were escorted to the cinema with our VIP admission tickets. The lights dimmed, and soon we were entering the doors of 5th Avenue's luxury department store, Bergdorf Goodman.
The film was a homage to the legacy of Bergdorf Goodman and featured interviews with myriad designers running the gamut from Diane von Furstenberg to Patricia Fields. Director Matthew Miele delivered a poised and keen interpretation of the fashions carried at the store, which is seen as one of New York City's major landmarks. Miele highlighted elements of what makes Bergdorf Goodman such a marvel and an addictive dose of eye candy for anyone passionately interested in fashion.
The window display segment was the most engaging of them all, curated by Bergdorf's visual artist David Hoey and style guru Linda Fargo. The behind-the-scenes workings of what it takes to create the store's legendary holiday windows was magnificent, demonstrating over a course of a year how and what is done in order to prepare.
Throughout the documentary, there was also an unexpected, yet delightful array of quotes frominterviews with A-list designers including Jason Wu, Marc Jacobs, even Karl Lagerfeld who said, "I am born careful … I am a lucky person who can do what I want, in divine conditions."
This documentary spanned a course of a hundred years, yet it brilliantly captured the essence of Bergdorf Goodman in a short amount of time. Matthew Miele should be credited for being an industry outsider who was able to engage and educate a fashion savvy audience and let us peer inside Bergdorf's from a bystanders perspective.
(Images courtesy of Entertainment One)