When it comes Valentine's Day, or any other holiday for that matter, note cards are a chic way to send a greeting. As a collector of stationery and cards, I'm always looking for cool designs that are fun, whimsical, and colorful. There's a line of post cards called Violet + Lines on my radar, founded by  graphic designer Stephanie Lazorchak and textile designer Gaby Maria Cols Azocar. I recently caught up with Lazorchak to discuss the line and design inspiration.
How did Violet + Lines get its start?
Well, conceptually it was four years ago in a corner street apartment, on my business partner, Gaby's bed. I shouted, "I have an idea!" Shortly after, a long shortly after – two years – I named the babe, dressed it in colors, and gave it a face.
What inspired you to create greeting cards?
Creative restlessness. I also have a passion for collectible snail mail, that and many of my friends were getting married and having babies at the time. While those things are fun for the respected parties, finding cards from my point of view wasn't. I want the recipient to want to keep the card, whether it's a symphony card, a hello, or a Valentine's card.
Tell us about your celebrity series.
I created a series in which I thought about who I want to come to dinner, dead or alive, from all creative genres. I named the limited edition collection, "Guess Who's Coming to Dinner?" It included Charles and Ray Eames, Jeremy Renner, Christian Lacroix, Peter Lorre, Erykah Badu, Florence and the Machine, Simon and Garfunkel, Joe Kwan, Milla Jovovich, and finally, Kevin Smith with QuestLove. The collection included twelve guests with my signature surprise texture backs, exclusives to the guest card and never to repeat. My next compilation is discreetly in the works, but I'll share a few such as Katherine Hepburn, Groucho Marx, and Massimo Vignell.
What inspires your designs?
My designs are inspired by my life, illusions of daydreams, a spontaneous, travel-obsessed, over analytical, detailed mess. I'm inspired by everything around me odd or simple, rare and tell a different route of the same story. I watched the French film "Red Balloon" and created the card "Dream Catcher" with a pup chasing a red balloon across the white space. All ages love it because represents a feeling within that specific person, what you want it to be. They share their own feelings from my visions.
What sets your card designs apart from other brands?
What sets my cards apart? Well, I'm not reinventing the wheel here; I'm simply taking my complex brain, and making it approachable. Using my clients' interests and making it speak to the masses. I use strong placement of the designs to marry the use of space and color, while maintaining fun and everlasting keepsakes. You can take a bi-fold card that in length measures 10×14, and frame it. You can pick up one of the many Valentine's card and use it for an anniversary, a simple I Love You, or wedding. There is no expiration of the cards as a single or unit, because there isn't a defining message.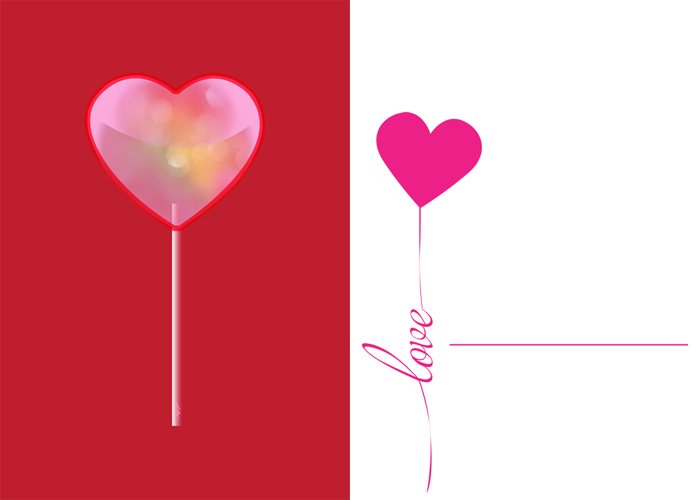 Tell us about the eco chic side of Violet + Lines.
I aspire to save the environment not because it's the hot topic, but because it's the right thing to do. I reuse, recycle, and reduce the amount of waste. I work with small, independent print houses that use recycled paper, soy based inks, and don't unnecessarily package my orders with throw away. My cards are for the masses, at a price that independent shops could carry or larger retailers such as Barney's could carry.
Describe your designs in three words.
A detailed bliss.
You are a huge fan of fashion. Who are your designer faves?
Yes, I have a crush on fashion. Let's see – Carolina Herrera, Alexander Wang, Honor, Rag and Bone … I could keep going but you see my theme.
What's a must-have in your beauty arsenal?
Oh, lip-gloss. I never know if I'll need to sign, seal, and kiss one of my own cards!
What's your favorite martini, cocktail, or mocktail?
I don't even know what a mocktail is, should I try one? But this season, I'm into the Moscow Mules – a trend but a good one.
What's your favorite spy film?
I have a few, but North by Northwest (1959) is the first to pop in my head. That Cary Grant, he was so debonair.