As was William Shakespeare to English literature, Henri Matisse to modern art, and Frank Lloyd Wright to organic architecture, so was Christian Dior to fashion design — a master of his craft. He elevated the physique of women and highlighted their femininity, with silhouettes marked by tailored jackets and bulbous skirts – making it befitting he be honored in film.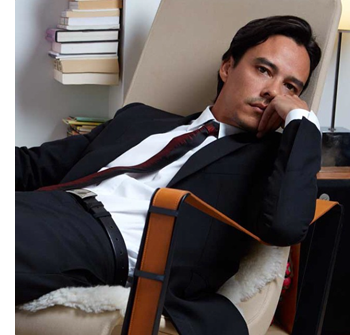 Dior and I is the latest award-winning fashion documentary from producer and director Frédéric Tcheng (right), behind "Valentino: The Last Emperor" and "Diana Vreeland: The Eye Has To Travel." Dior and I melds the past with the current and takes us behind-the-scenes for an emotional journey with designer Raf Simons in creating the Dior Fall/Winter 2012 Haute Couture collection, his first collection for the iconic fashion house. I recently caught up with Tcheng for an e-interview to discuss his latest film, working with Simons, and documenting fashion.
Why fashion documentaries?
Every film is a different adventure. And that's what I like about it. I wouldn't want to do something that feels similar, I simply wouldn't be excited enough to go through the emotional roller-coaster that is a film production. All of my work more or less happened by chance. Or good timing. But I am careful not to jump into anything. I have to fall in love with the subject otherwise I can't make a film. That's what happened with Diana Vreeland and with the world of Raf Simons and the seamstresses at Dior.
How did "Dior and I" come about?
In december 2011, I went to Paris for a private preview screening of the documentary "Diana Vreeland: The Eye Has To Travel." Olivier Bialobos, the head of communication for Dior, happened to be in the audience. So we struck up a conversation about the future of Dior. As we met again in the following weeks, I become more and more interested in the idea of documenting the arrival of the new designer.
In the film it's revealed that Raf Simons is camera shy. How did you convince him to be a part of this project?
Raf Simons was not enthusiastic, to say the least. He actually said "Absolutely no" when we first approached him. But then we met in Paris and I think as we got to know each other personally, the project became less threatening to him. It's a matter of personal connection in the end. Perhaps what appealed to him was the fact that I envisioned the film as an ensemble cast, not solely a portrait of him.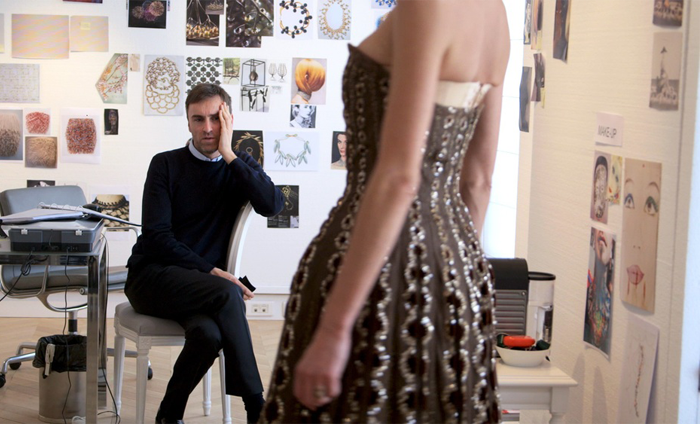 The seamstresses seem so passionate about what they do. It's more than just a job for them. Was it hard for them to adjust to working on camera?
Some of them were very camera shy, but others were very open and comfortable. It took time to gain their trust though, because the camera crews that visit them usually are more interested in getting B-roll. I didn't think they were B-roll material, I thought they were an integral part of the story.
Having the opportunity to film Simons during the creative process, how do you feel he captured the essence of Dior in his first collection?
I am not a fashion expert, my background is film, and I've always been a little taken aback when people ask me my opinion about the collection we see in the film. I was never in that position while making the film. Perhaps I feel like I can't judge the work because I somehow feel like I've made the collection with them. I think personally it's beautiful, but my judgement isn't relevant. Filming is a process of total empathy – total identification – which allows me to get into my characters' heads. As a result I can't look at that collection objectively. When I look at it, I see all the hours that we (they) worked on it, all the hopes and set-backs, the whole emotional journey.
What did you enjoy most about making the film and the final project?
I enjoyed being part of such an amazing adventure with Raf and the atelier. The seamstresses are the unsung heroes of fashion, and I am very happy that it comes across in the film.
What was Simons' response to the film?
I wanted to watch the film with Raf, but he insisted on watching it by himself. He said it was too confronting and that he was not ready to watch it with someone else. I respected that choice, of course, and I waited nervously by the phone. He sent me a very beautiful text message. I think he was surprised by the level of emotion contained in the film.
That flower wall! How long did it take and how fabulous was the scent?
The flower wall was such a sensory experience, unlike anything I've seen before. It was beautifully organic, almost alive, and yet it looked like a beautiful art installation. The scent filled the whole building, even the whole block.
What would you like viewers to take away after watching "Dior and I" or any of your fashion films?
This is my first solo directorial effort. I'd like people to come out of the film with a renewed appreciation for the seamstresses who work in the shadows of the designer. They do amazing work, and they're rarely acknowledged. I wish they had a credit at the end of every runway show, where everyone would be acknowledged, like in a film, but fashion is different.
What's next for you? Is there another designer documentary in the works?
Not for the moment. I'm working on a narrative film. Something other than fashion.
"Dior and I" will be released in select theaters in the US April 10th. Check for your city at diorandimovie.com.