There's a hot new show on the small screen this season called Jane By Design. It's "The Devil Wears Prada" meets "Pretty in Pink." The premise is about a quirky high-schooler named Jane Quimby (Erica Dasher), who stumbles upon the opportunity of a lifetime when she lands a fulltime gig working for the famous designer Gray Chandler Murray (Andie MacDowell) at Donovan Decker, a retail company.
Like all the fashion-related shows that catch our fancy, "Jane By Design" features craveworthy looks. I just had to catch up with costume designer Olivia Miles, who also costumed "Entourage," to discuss the fashions and the eclectic looks sported on the style savvy show.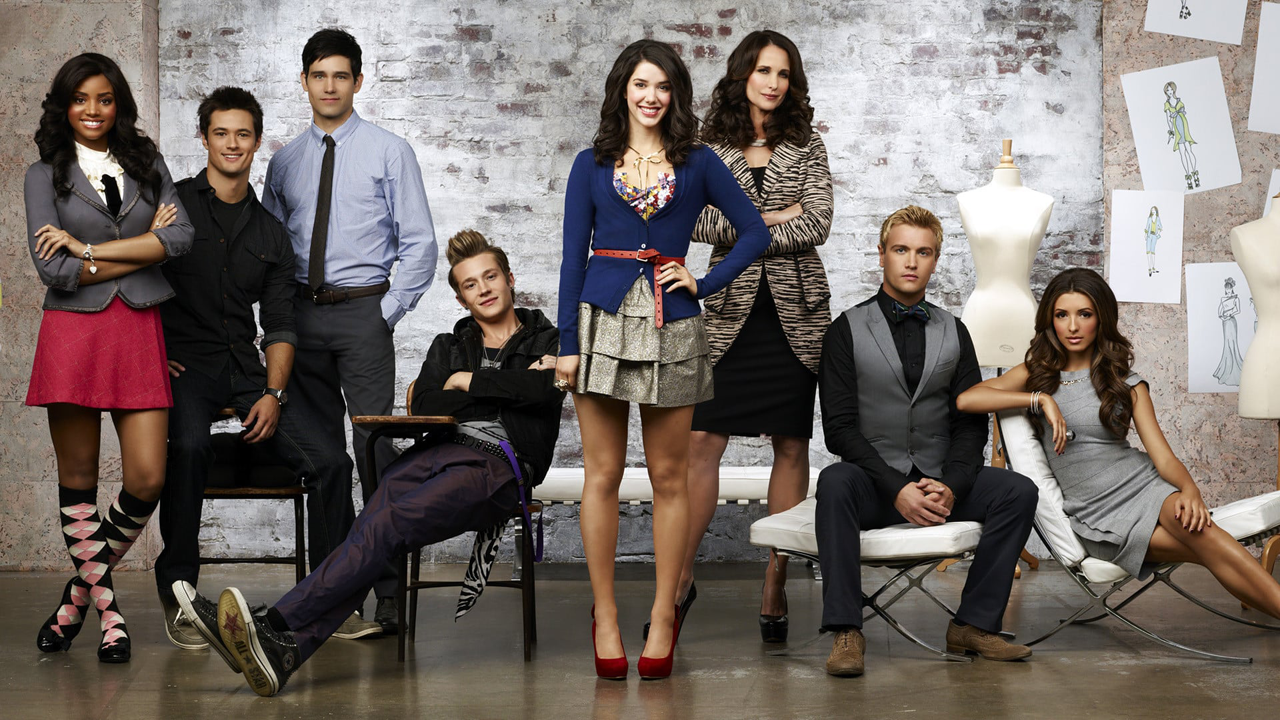 Jane's style is eclectic. What inspired her look? When we were developing the style for the character we were inspired by fashion bloggers, I have to say, and street style websites like the sartorialist, where people are expressing themselves in different ways.
In the pilot episode, Jane wears a red military jacket. Was that a vintage piece? I wouldn't quite call it vintage. It was Rugby Ralph Lauren . I didn't find it in the stores. I found it in a costume house and then I augmented it and added the chains.
Fashion in this show is almost a character in itself. What is the overall theme that guides the wardrobe aesthetic? What's really important to me on the show is to keep everyone in their own identity. With that many actors to dress, it can be hard to keep everyone on their character path.
"Fashion is a really great form of expression. You don't need a lot of money and you don't need to look like anybody else. It's okay to make mistakes. It's just an outfit."
How do you find the fashions for the show? Do you design them yourself, scour vintage shops and flea markets, or receive items from designers? It's a total mixed bag. I definitely work with a lot of different designers. By the end of entourage, which I did, people were so eager to work with us. But when you are a new show starting out in the first season, and maybe not everyone has heard of you or seen the marketing it can be really difficult to borrow samples or even use peoples designs. But I thrift, I make things, I shop – the show is so fun because you get to do everything.
What is the most exciting and challenging aspect of costuming the show? It's exciting for this first season. We're having to do a runway show within a week or picking up these wedding dresses that we saw a couple of episodes ago. Every week there's something new, exciting, and different. It just gets more and more whacky. Jane has to get out of bigger and bigger problems.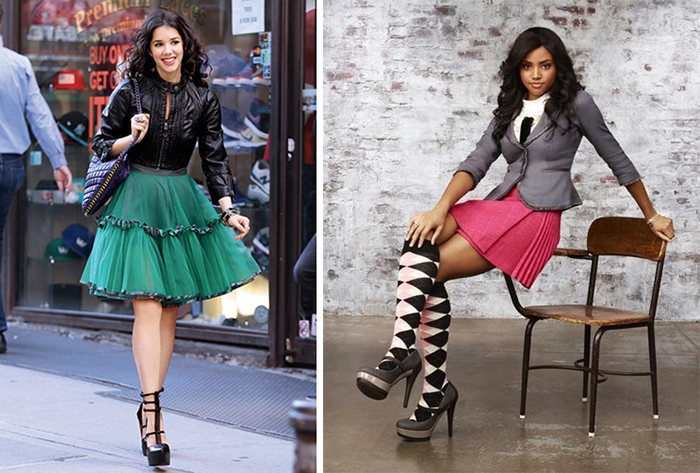 ---
Doing something like the runway show, do you have to design all the costumes yourself? Yeah, in this case I didn't have the turnaround time to have them all made. Also, it's extremely expensive so I borrowed a lot from a designer named Maggie Norris out of New York because there is kind of a Marie Antoinette inspiration coming up in the finale. I did create a line for the first couple of episodes, the pieces you see in the trunk show and you see them again in Donovan when Jane tries some of them on the mannequin.
There's ballerina-esque pink dress with a tulle skirt that Jane wore to her school dance. Can you tell me more about that design? That's something I had made for Erica (Jane Quimby). Looking around in the stores you can't find that – you have something in your mind and it's so difficult to locate it sometimes. It was a bodice with a hidden zipper and we added little rosettes made of tulle to the bodice. Then we had a vintage Alexander McQueen belt and a giant ballet skirt.
What about the shoes? The shoes were by Tory Burch. They were black velvet shoes with gold when I got them from their showroom and they let me paint them silver to match the outfit.
Is there anything she wears consistently throughout the series? Every week she wears a different animal ring, you often can't see it; like an octopus, a frog, or bird. Every episode and every outfit, she has a different animal ring, and she wears her "Jane" ring by Patricia Fields, in every single episode.
---
Where do you find the amazing tulle skirts that Jane wears? The red one she wears in the opening when she's walking down the street in New York, I had made. The green one she wore last episode was vintage from the 50s. I got it from one of my favorite shops in LA.
Where are some of the places that you shop? For high-end vintage, I try to mix with something inexpensive. If I'm going to use an investment piece I try to mix it with something from H&M or Zara to keep the budget on par. Starting from expensive, my favorite shops in LA are Resurrection, Decade, Catwalk, and Shareen Vintage. Shareen is a stylist and costume designer who opened this amazing old warehouse in downtown LA. Her prices are really good, there are no boys allowed, you just change wherever; it's really cool.
She also wears a high-end black dress and a decorative pin to school to take a test. What all did you put together to create that look? The dress I got from Opening Ceremony. There was a diamond pin that I borrowed from Avakian jewelers.
What type of design was the pin? The pin is this really cool spider with long legs. In the plot, Gray has been discovering all these jeweled animal pins to send back for the accessories collection, so Jane kind of put it on as an example of the work Gray was doing out of the office.
Olivia Mile's tips for fashioning a chic wardrobe:
Statement-making jewelry that is inexpensive.
Belts are an easy way to make an outfit look different.
Mix investment pieces with cheaper trendier pieces.