Diana, Princess of Wales is one of the most famous royals in history; her fashion, her philanthropy, her loves –​ have all made her known to the world. But as a sartorial sleuth, it is her iconic style that resonates with me. In the new biopic "Diana" starring Naomi Watts, which explores Princess Diana's love affair with heart surgeon Hasnat Khan (Naveen Andrews), fashion is a character in its own right due in part to one of Princess Diana's favorite designers and costumer for the film, Jacques Azagury. It's quite befitting that Azagury would be asked to costume the film; many of the elegant evening gowns that Diana donned, he designed.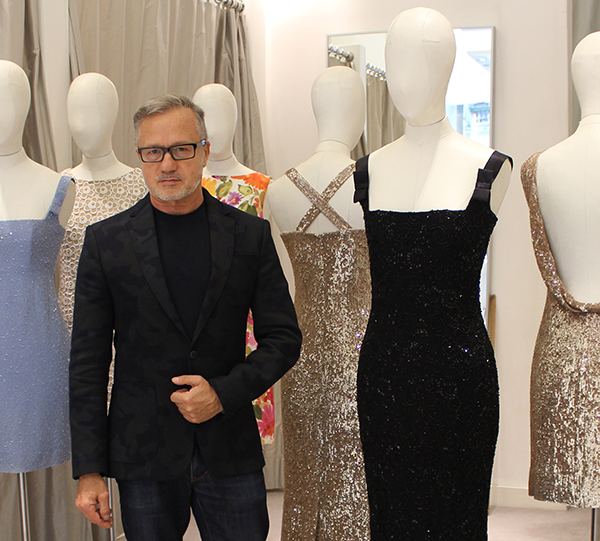 ---
I recently had the privilege of speaking with the British designer to discuss the film and Princess Diana, whom he described as effortless to work with because she had an "amazing ability to not make you feel nervous." Princess Diana, who's arguably one of the most well-dressed women in history, had a penchant for selecting just the right pieces to wear for any occasion, yet she was not picky when it came to color. Azagury explains that she loved a variety of hues from red and black to cornflower blue, but she was drawn to wearing black.
His favorite piece he created for her was a floor-length beaded black Chantilly lace gown with bow straps that he gifted Princess Diana for her birthday, inspired from a short blue version she had worn previously and loved. Azagury replicated these dresses to be worn by Watts, as well as new looks including floral shift and gold cocktail dresses.
"For the film, I created replicas of dresses I had designed for [Princess Diana] and included pieces from my recent collection that are Diana-esque…the type of things she would have preferred."
When Azagury was approached to design costumes for the film, he was initially apprehensive, "It had been more than 16 years since I worked with her," he says. "My business had moved far forward." He wasn't sure he wanted to revisit that era but when he learned that Watts had signed on for the role, he decide to do it.
His initial experience working with Watts he recounts as a strange experience because of the similarities in mannerisms and voice – Watts had already begun immersing herself in the role. He describes the joy and happiness he felt when she stood before a mirror in one of the dresses and witnessing her transform into Diana right before him.
But what would the Princess of Wales think about the movie? Azagury feels Diana would find favor with the film, "She would say it's telling it like it is," he says. "It's a story about a woman who lived in a palace, had clothes, and money … but was desperate to find love."