I'm so excited to kick off my Beauty Brief series, where I review the latest in beauty products so you'll know if they are worthy of being included in your beauty arsenal. On my radar currently is the Lancôme Juice Shaker.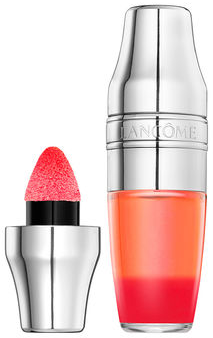 Styled to resemble a martini shaker, the 3-inch container is très chic and befitting a sartorial sleuth. I recently received a package in the mail containing two Juice Shakers. Since this product had been on my radar since they launched in April, I was thrilled to give it a try. The Juice Shaker comes in 20 shades and scents—the two I'm wearing are 'Wonder Melon' (top left) and 'Great Fruit' 9bottom right), which appear bubblegum pink and coral orange in their containers. They both go on sheer and give a hint of color on my lips, which have a deep mauve pigment. With a paler lip, the sheer color is likely to have more intensity.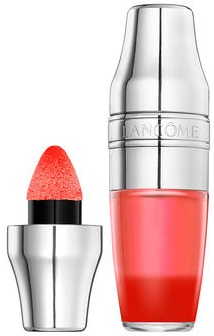 I happen to love collecting lip glosses, balms, and lipsticks because a lip color can transform your beauty look. I like the sheerness of lip glosses for everyday and this is the category I would place the Lancôme Juice Shaker. What I enjoy about this lip product show smoothly it goes on with the sponge applicator and since it includes peach kern, sweet almond, cranberry, muscat rose oils—there is not the stickiness you typically get with a gloss. After the Juice Shaker has sat a while, the oil and pigment separate, just shake and they're ready for application. Immediately upon application, there's a healthy natural appearance to the lips.
The only flaw I see in the product is longevity. Throughout the day I needed to reapply, however it was so fun to pull out my martini shaker-shaped gloss, it made up for it. The $21 cost may seem steep for a gloss, but with a beautiful container and addictive fruity aroma, the Juice Shaker is a keeper and makes it into my beauty arsenal. Did I mention that I like to mix the two—Wonder Melon on the top and Great Fruit on the bottom lip? It's the perfect concoction for my pucker! Ask me how I like my gloss, I say shaken, not stirred.
Watch the promo!
Lancôme Juice Shaker -

8/10