Kevin Hart and Josh Gad are the funny new 'odd couple'
Comedians Kevin Hart (Ride Along) and Josh Gad (Frozen) could literally be the funniest comedy duo since "The Odd Couple," and odd couple they are – in a good way. At a recent screening of their upcoming film The Wedding Ringer, starring Hart as Jimmy Callahan a.k.a. Bic, a best man for hire to grooms lacking in the friendship department, I got to witness it first hand. In the movie, Gad portrays Doug Harris, one of those such grooms. He's a shy guy looking for a group of groomsmen to pretend to be his best buds for the day. It's a scenario that these two play oh-so-well, but more on that in my upcoming review of the film.
The evening of the screening, the audience were surprised with an announcement that "The Wedding Ringer" stars would be there for a Q&A. After what seemed like a long wait, the two comedians arrived to the cheers of an elated crowd. One could even say Hart was fashionably late, considering he was clad in dark denim Balmain jeans – as he later revealed – enlisting a funny retort from Gad who joked about Hart's pay grade versus his. This would be just the beginning of the fodder that would be exchanged between the two, who shared behind the scenes scoop while making the film such as a chicken wing fight on set. But the real intel would come the next day during a round table interview with Hart and Gad as they dished on the film, their careers, and what it's like being funny guys.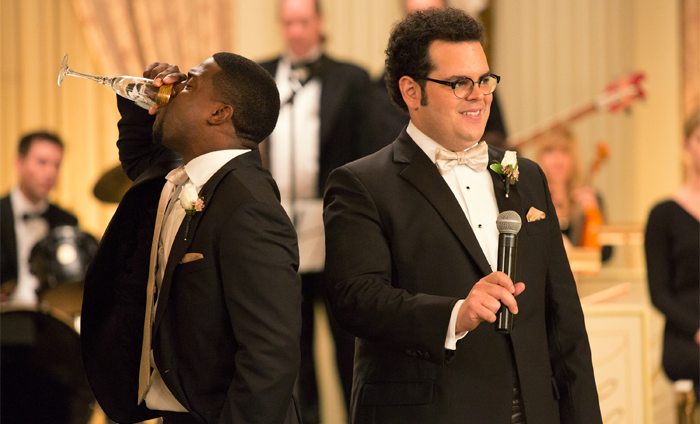 During the interview, it's hard not to be in sheer laughter every second you are in the presence of Hart and Gad. Their quick-witted banter is hilarious, almost as if they're a couple of fraternity brothers trying to one up each other. But between chuckles, there was some serious conversation too. They come across as very down to earth, which might be a novelty in Hollywood. Evidenced by Hart's statement that it's "rare in the business right now to find people who aren't afraid to be people."
With all that's happening in the world today, it's not hard to understand why even comedians might be on their guard. From the Sony scandal (even Hart experienced some backlash) to the protest marches, the social climate has been anything but funny. But leave it to Hart to take a serious issue and find some levity. When asked what he would say if he could speak for the president, the comedian immediately said laughter would be his strategy.
"I think right now, things are getting so heavy … so like racially blurred and I feel like we're taking steps backwards that the only way to kind of go and start to move in that direction where you're going forward again is to take a second to smile." Hart goes on to suggest that sometimes guidance is the answer,  and of course, the funny man doesn't waste a chance to plug his latest film, "And so as the president, I would point people in the direction of laughter, which then circles back to The Wedding Ringer."
When it comes to bouncing back from low points in their careers, Gad shared a personal moment with his mother and what she told him after he told her he was giving up acting and going to law school. Gads mother, who he credits for his success, had words of wisdom for her son, "You spent 16 years dreaming of being an actor and only 3 years actually trying to be an actor." After expressing her disappointment at him wanting to quit acting, Gad decided to see it through. A week later, he landed his breakout gig on Broadway with Spelling Bee.
Hart took his challenges more in stride, emphasizing that although it was nearly 15 years in stand up and random appearances in movies before his career took off, he never thought about giving up, "In comedy the lumps that I took were just laughing moments for me – never a question of doubting myself," he explains. "The one thing I am is funny. My talent and being able to entertain, that's one thing I always had confidence about." He even goes as far as to joke about his "Is that Kevin?" moments, referring to obscure roles he's had over the years including as Philip Seymour Hoffman's camera guy in Along Came Polly (2004), to a role in a film in which he was cast as an albino. Tough times have given him an appreciation for where he is now. "I approach every day with a winning attitude," he said.
As to how hard they feel it is to be a comedian, they both agree it's not hard when you are doing what you love. Gad views comedy as being subjective with everyone having an opinion about what they do and don't like, while Hart believes that being funny can't be taught, "Either you have it or you don't," he said. One thing for sure, these guys have got it and you're going to see it when The Wedding Ringer hits the big screen on January 16th.
Listen to an excerpt from the interview above and hear Hart and Gad talk about their chemistry onscreen and off. Watch the trailer below.