Actress dishes on being a badass in "The 100" and why Heath Ledger was her Hollywood Crush
If you haven't heard, there's an apocalypse happening on the CW's "The 100." The popular series hit the airwaves in 2014 and ever since it's been gaining a cult following. One of the shows stars is Lindsey Morgan, who plays Raven Reyes–a mechanical engineer. She's fierce and fearless–what Lindsey describes as "a total badass–a sassy, guy's girl, with a mind like Macgyver, a heart like a lion and the will of a warrior."
The Georgia-born, Texas-raised actress is making her mark on the small screen, and has even been nominated for a Teen Choice Award for her role. There's nothing more exciting than to watch a rising star in action–she's definitely one you're going to want to keep on your radar. I recently caught up with Lindsey to get more intel on her career, the show, and to share her style faves.
How did you break into acting and what was the first acting gig you landed? I don't think I ever broke into acting, my entire career has felt like appropriately timed ladder rungs that would appear exactly when I was ready for them. My first acting gig ever was a commercial in Austin, Texas for a government issued cell phone, where I played a teen mom.
How did you land the role of Raven Reyes on "The 100"? I pre-read, then auditioned, and went through the entire process, of call back, producer session, chemistry read–until I got the call I would be leaving for Canada, where we film, in two days. It all happened within four days, while I was waiting and testing for a series regular on another show. Raven was an effortless fit for me–when I walked out of the room, I knew it was mine.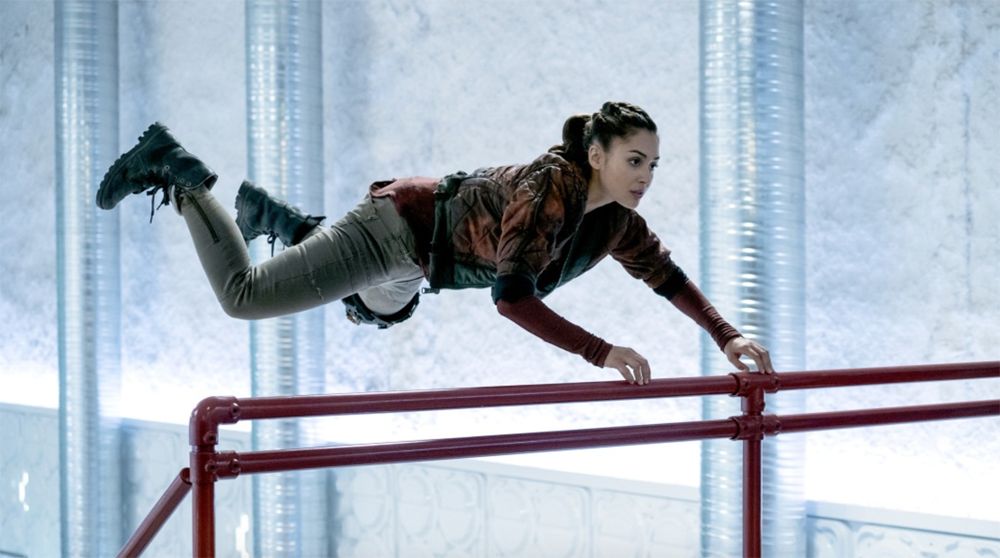 You previously starred on "General Hospital." What was it like to transition from a daytime show to primetime? Daytime is a much different machine then primetime, and especially soap operas. We are producing an episode a day, so you are filming so much more. I think an average day is filming about 80 pages, whereas primetime it is 8 pages. You don't have the luxury of time or multiple takes or multiple set ups. I think soap actors don't nearly get enough credit for the work they do.
You've worked in some films including "Detention" with Josh Hutcherson. Do you eventually want to transition to acting in movies? Definitely. Movies have always been the goal, but television is truly in it's golden era and I am loving it. I'd love to always do both.
If you could act with any actress/actor past or present, who would it be? Meryl Streep and Daniel Day Lewis. I just want to learn everything from them and stalk them as they work.
Who is your Hollywood crush and why? Heath Ledger–his smile, presence, talent, range and heart. Oh, and did I mention, that smile!
What would your fans be shocked to know about you? I've been homeless since January this year. I gave up my place in LA and Vancouver and have been traveling so much I haven't had time to settle on moving in anywhere. Just living out of a storage unit, and the good graces of my friends and Airbnb.
What is your style profile? Minimalist
Favorite in fashion. Louis Vutton Palm Springs mini backpack
What's always in your handbag? Lip Venom
Favorite in beauty. Becca Under Eye Brightening Corrector (above right)
Favorite in entertainment. "The 100" and Majid Jordan 2016 album.
Favorite cocktail. Spicy Mezcal Margarita.
Favorite food or drink. Slim Master Juice from Kreation
Favorite vacation spot. Tokyo, Japan
Complete this sentence: If I were not acting, I would be a… Neurosurgeon.
If you were a Chic Spy Agent, what would be your code name? Nadia Vega